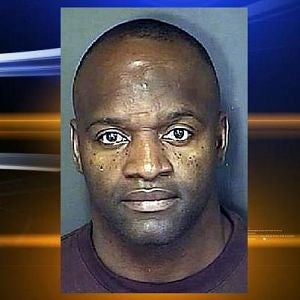 Dave Meggett has a Super Bowl ring and was a favorite of coach Bill Parcells, playing for him on three different teams. Unfortunately, that won't be the running back's legacy. Not even close.
Meggett, who played 10 seasons in the NFL and gained notoriety mainly as a punt and kickoff returner, was arrested Wednesday and charged with raping a 21-year-old woman in her North Charleston home. Meggett was already out on bond in connection with a rape charge last year, and is on probation for sexual battery against his girlfriend in 2006.
In September, he was charged with third-degree criminal sexual conduct after a 17-year-old North Charleston woman told authorities she was raped by a man she knew as "Michael," according to police records.

Both South Carolina arrests occurred while Meggett was serving out two years probation for a 2006 sexual battery charge in North Carolina. Authorities there allowed the Charleston native to serve his sentence in South Carolina and have been notified about both of Meggett's recent arrests, said Pete O'Boyle, spokesman for the South Carolina Department of Probation, Parole and Pardon Services.
Meggett, who lives in Summerville, retired from the NFL in 1998 after being released by the Patriots. That followed a charge that he assaulted a woman in a Toronto hotel. That charge was later dropped. Say goodbye now, Giants and Patriots fans, because no one's likely to see this guy again.
Meggett won the Walter Payton Award in 1988 and was a two-time Pro Bowler, the last in 1996, just two seasons before he was forced out of the NFL. Sad ain't the word.