On Wednesday, the United States Anti-Doping Agency released hundreds of pages of allegations against Lance Armstrong purporting to prove beyond a shadow of a doubt that Armstrong not only doped, but organized a doping ring. The question of whether or not Lance Armstrong used PEDs is basically settled for most people that care—he did, and he's already forfeited his Tour de France titles by choosing not to fight these very charges—but doping itself is also ancillary to the question that doping investigators think they're answering: Is Lance Armstrong an asshole? If so, what type of asshole? Armstrong is many things to many people—the face of a prominent charity, a sporting goods and beer pitchman and, perhaps indelibly, a feature of the sports and culture landscape. Knowing whether and in what way Armstrong is an asshole is useful for the same reason that knowing Michael Jordan is an asshole is useful: he's going to be around forever, so we may as well know what we're looking at the next time he pops up in an ad or takes a job as an executive.
Recent revelations from hired hands gave us an outline of Lance Armstrong in private: threat maker, expletive mutterer, income non-reporter. Now, the USADA report provides, partly for context and partly because, if you did all the research, you may as well throw in the findings that smear your target, a richer portrait of Armstrong. Here's what happens when you search the USADA's "Reasoned Decision" for terms like "threat," "force," "intimidation" and "berated":
Armstrong told Vande Velde that if he wanted to continue to ride for the Postal Service
team he "would have to use what Dr. Ferrari had been telling [Vande Velde] to use and would have to follow Dr. Ferrari's program to the letter." Vande Velde said, "[t]he conversation left me with no question that I was in the doghouse and that the only way forward with Armstrong's team was to get fully on Dr. Ferrari's doping program." For Vande Velde the meeting also confirmed what he had known for a long time, "Lance called the shots on the team . . . what Lance said went."

As a consequence of Armstrong's warning, Vande Velde stepped up his drug use. He "put [his] nose to the grindstone, suppressed [his] concerns and complied." He used drugs on the schedule prepared by Dr. Ferrari, including using EPO and testosterone with regularity.
In 2000 Italian pro cyclist Filippo Simeoni admitted to Italian law enforcement authorities his use of EPO and Andriol under the direction of Dr. Ferrari. Mr. Simeoni had been sent to Dr. Ferrari by his Italian professional cycling team in the 1995-1997 time frame and had worked with Dr. Ferrari thereafter. Thereafter, Simeoni testified at the trial of Michele Ferrari. [...]

On July 23 in the 18th Stage at the 2004 Tour de France, Simeoni joined a breakaway. However, Armstrong rode him down and threatened if Simeoni did not return to the peloton Lance Armstrong would stay with the break and doom it to failure. As a consequence, Simeoni retreated to the peloton.There was no potential sport or cycling advantage for Armstrong's maneuver. In fact, it was dangerous and impetuous, as Armstrong rode away from his supporting teammates to catch Simeoni, wasting valuable energy and unnecessarily incurring greater risk of a mishap while riding without assistance.

As Simeoni and Armstrong fell back to the peloton, Armstrong verbally berated Simeoni for testifying in the Ferrari case, saying, "You made a mistake when you testified against Ferrari and you made a mistake when you sued me. I have a lot of time and money and I can destroy you." Armstrong was captured on video making a "zip the lips" gesture which underscored what Armstrong had just said to Simeoni about how Simeoni should not have testified against Dr. Ferrari.
In addition to Armstrong's dominance on the bike, however, the stage was also marked by an Armstrong attack of a different sort. During the stage to Alpe d'Huez Armstrong rode up to Christophe Bassons, and berated him, calling him a disgrace and telling him he should get out of cycling. Armstrong's verbal attack on Bassons in the 1999 Tour echoed Armstrong's anger after a Bassons stage win earlier in the year at the Dauphiné Libéré.

Jonathan Vaughters recalled, "Lance did not like Basson's outspokenness about doping, and Lance frequently made fun of him in a very merciless and venomous fashion, much like a playground bully."
As set forth in the affidavit of Tyler Hamilton, after Mr. Hamilton had testified about Mr. Armstrong's doping and after Mr. Hamilton's cooperation with federal law enforcement officials had been publicly reported, on June 11, 2011, Mr. Hamilton was physically accosted by Mr. Armstrong in an Aspen, Colorado restaurant. Mr. Hamilton has testified that in connection with this altercation Mr. Armstrong said, "When you're on the witness stand, we are going to fucking tear you apart. You are going to look like a fucking idiot." Hamilton further testified that Armstrong said, "I'm going to make your life a living . . . fucking . . . hell."
As set forth in his affidavit, after Mr. Leipheimer was subpoenaed and testified truthfully to a federal grand jury in a case involving Mr. Armstrong, in the course of a dinner at which Mr. Armstrong was seated next to Mr. Leipheimer, Mr. Armstrong sent a text message to Mr. Leipheimer's wife stating, "run don't walk." As Mr. Armstrong had not communicated with Mr. Leipheimer's wife in several years, this message felt threatening to her.

Thereafter, Mr. Leipheimer returned to the RadioShack cycling team, which Mr. Armstrong had participated in founding, in order to compete during the 2011 season as Mr. Leipheimer was under contract with the RadioShack team for that season. During the course of the 2011 cycling season Mr. Leipheimer experienced a number of threatening and intimidating actions from one or more team employees, including comments such as, "I never forget. One day I will pay back." Mr. Leipheimer also received information that the Team Director Johan Bruyneel had stated that Mr. Leipheimer would not be re-signed by the RadioShack team because Mr. Leipheimer "had testified to the grand jury in the Lance Armstrong investigation."

During the 2012 Tour de France, and shortly after Mr. Leipheimer was interviewed by USADA's General Counsel in connection with this proceeding, Mr. Leipheimer's wife received another text from Mr. Armstrong asking, "Are you in CA?" Due to the timing of the message, the fact that Mr. Armstrong was well aware that Mr. Leipheimer was out of the country and competing in the Tour de France, and as Mr. Leipheimer's wife had not received a text from Mr. Armstrong since the time of the prior intimidating text, Mr. Leipheimer's wife found the communication to be disturbing and concerning.
In 2005, Jonathan Vaughters and Frankie Andreu exchanged texts about doping, but not about Lance's team. Armstrong requested an affidavit from Vaughters saying he had no knowledge of Armstrong or anyone on the Discovery Team doping. Vaughters obliged, but it wasn't enough to save him from the wrath of Lance.
Since that time, Mr. Vaughters' employer, Slipstream Sports, has received several phone calls from Mr. Armstrong suggesting that Mr. Vaughters should be removed from the management of Slipstream Sports.
After Betsy Andreu served as source for journalist David Walsh and testified in the SCA arbitration proceedings, Lance Armstrong attacked her in the media as "vindictive," "bitter," and "vengeful."

Further, on December 15, 2003, Mr. Armstrong sent an email to Frankie Andreu warning that "by helping to bring me down is not going to help y'alls situation at all. there (sic) is a direct link to all of our success here and i (sic) suggest you remind her of that." Mr. Armstrong's statements and actions towards the Andreus in relation to their actual or potential disclosure of information concerning Mr. Armstrong's anti-doping rule violations constituted an effort by Mr. Armstrong to conceal, suppress and hide his rule violations and to retaliate for statements and testimony implicating Mr. Armstrong in anti-doping rule violations.
In October, 2005, the French newspaper L'Equipe ran a story on research analysis conducted on samples from the 1999 Tour de France that reported that six of Armstrong's samples from the 1999 Tour were positive for EPO. Dr. Prentice Steffen was quoted in connection with the L'Equipe story and Armstrong and his lawyers promptly followed up with TIAA-Cref, the cycling team with which Dr. Steffen was employed at the time. Due to Mr. Armstrong's stature within the sport of cycling, the management of the TIAA-Cref team ultimately concluded that if they did not remove Dr. Steffen from his position with the team that the TIAA-Cref team might suffer repercussions. As a consequence, Dr. Steffen was removed
from the team for a period of time.
After Floyd Landis provided testimony to federal law enforcement officials concerning Mr. Armstrong's doping and made his allegations publicly known, Mr. Landis was accused of being a liar and vilified in the media by Mr. Armstrong and his representatives.
G/O Media may get a commission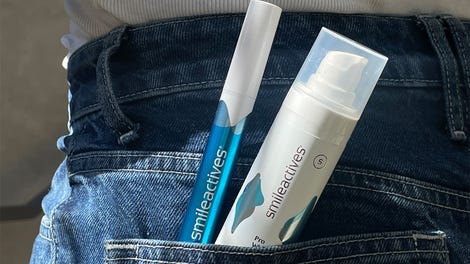 58% off
Whitening Powerhouse Pen & Gel Duo
The USADA report isn't the only thing in the news casting Lance Armstrong in an unflattering light: today's New York Times sports section contains the story of Emma O'Reilly (interviewed for but not mentioned in what we have of the USADA report), who was once the "soigneur" (masseuse and maid, basically) for the United States Postal Service cycling team. O'Reilly thought she'd be doing laundry and setting appointments; instead, she was mostly a drug mule. She told her story in a 2003 book, and, naturally, "Mr. Armstrong demonized her as a prostitute with a drinking problem, and had her hauled into court in England." The lawsuit dragged on for three years.
So what type of asshole is Lance Armstrong? Put it this way: Variations on the terms "verbally berated," "a living hell" and "threatening text message" pop up often enough in the report to suggest that Armstrong only pauses in his steroid regimen long enough to intimidate and harrass people that know he has a steroid regimen. It's not an altogether surprising series of charges, but where the USADA report seems intended to prove that Armstrong is not only a cheat, but something of a sociopath, it largely succeeds. We knew that, but now we really, really know it.
PREVIOUSLY: Excerpts From The Recent Outside Magazine Story That Make Lance Armstrong Look Like An Asshole