A prominent Ole Miss athletics backer known for tweeting at and promoting potential Rebels student-athletes was revealed to be a fake account yesterday, ending years of speculation that the blonde and perky "Analesa Presley" did not exist at all.
Mississippi State blogger Steve Robertson tracked down the individuals whose photos were used to represent "Analesa," and wrote up the entire affair over at Scout. The character, who has represented herself online as "@Rebel_AP," "@Rebel_AGP," "@FinsUpAP," and others, has been a highly visible Ole Miss booster since at least 2012, appearing on platforms including Twitter, Facebook, Myspace, Pinterest, Snapchat, and Instagram, all of which did nothing but hype Ole Miss athletics and attempt to draw recruits.
The character served as a catch-all cheerleader for everything Ole Miss, despite not actually being a Rebel herself; she supposedly attended either Ohio State or a Mississippi community college, depending on where you entered the story. The official explanation for why she had to keep changing her Twitter handle was harassment; the more likely truth is that it was simply an excuse to wipe out any proof Presley did not exist and start over from scratch.
G/O Media may get a commission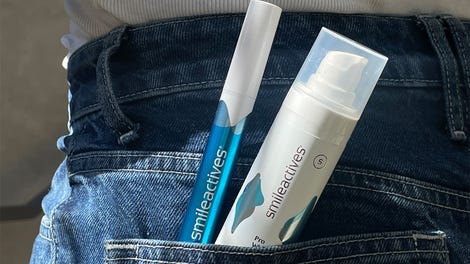 58% off
Whitening Powerhouse Pen & Gel Duo
The photos of "Analesa" were swiped from the internet, as Robertson discovered.
[A] tip came in that led me to contact a young lady from Dalton, Georgia by the name of Bailey Sims. After connecting with Sims on social media, it was clear that her pictures had a striking resemblance with those supposedly of one Analesa Presley. In fact, all of the profile pictures on every form of social media for Analesa Presley was either Bailey Sims or her sister Ashley.

"It all just creeps me out," Bailey said. "I can't believe something like this would ever happen."
The influence of "Analesa Presley" was strong enough in Oxford that "she" got birthday shout-outs from head coach Hugh Freeze. Many have alleged she was the creation of radio hosts Make It Rain Sports, which hosted her articles and, twice, featured "her" on the air:
Make It Rain Sports has consistently spoken of the character as if they were quite familiar with her identity and whereabouts, but today host Acey Roberts proclaimed ignorance.
We first heard questions about "Analesa" in late 2012, when tipsters suggested the Ole Miss booster didn't exist; we set the story aside a few weeks later to investigate a different college football story about a too-good-to-be-true woman. Some insisted that "Analesa" was actually a product of the Ole Miss athletic department itself. We're skeptical but if you have information, please let us know.
To contact the author of this post, write to tim@deadspin.com or find him on Twitter @bubbaprog.
PGP key
PGP Fingerprint: CDD8 B3DD 3565 1540 B1F9 4D63 D2B5 398E 0CAF 2F9C
OTR Fingerprint: DCE5668E 85A1AE55 100BC2A2 F1B94461 EE7FB055