You know what's not fun? Watching a pro wrestling match in 2017 with a genuine fear that someone is about to be maimed.

On Sunday night at the WWE Hell in a Cell event, dread hung over much of the main event, in which Kevin Owens took on Shane McMahon in the eponymous, fully-enclosed chain link cage. That they were going to head to the top of the cage and deliver a huge fall was an inevitability, because that's what you expect from Shane in this setting. But the actual most terrifying moments, in terms of anticipation, came as the two men brawled on top of the cell, which consists of the same chain link panels as its walls. They proceeded to take way too many bumps on the roof, including Shane eating Owens's pop-up powerbomb finishing moves, and remarkably, it held up. But since there have been occasions in the past (some by design) where the cage has not held up, the match was more than a bit nerve-wracking to watch.
A few minutes later, Shane dropped an elbow off the top of the cell through one of the announcers' tables. Immediately, it became clear that first time he did this, during his WrestleMania match with the Undertaker last year, he was incredibly lucky. That time, he hit his mark well and landed about as flat as could be expected when falling from such a great height. On Sunday, however, he rotated as if he was trying to legitimately hit an elbow drop, landed directly on his shoulder, and bounced off the table.
Oh, and like last year's WrestleMania match, Shane's young sons were seated at ringside.

G/O Media may get a commission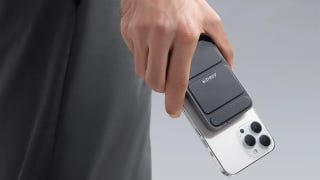 15% off
15% off Anker Top Ten Products
Take charge
Treat yourself to a portable power bank, a magnetic wireless battery for iPhones, or even a solar generator. There is a reason these are in the top ten. For instance, the Anker 747 Power Bank is a 4-in-1 charger utilizing USB-A and USB-C to be capable of charging up to four devices at once. Great to take with you when traveling and in need of keeping your phone, laptop, and even Nintendo Switch powered on.
No matter how much the target may have been rigged up to resemble a crash pad, that kind of fall is just plain ill-advised, even by pro wrestling standards. But it's what has come to be expected from McMahon, even though he's the boss's son and really has no good reason to be doing any of this. Or does he?

Contrary to popular belief, Shane McMahon has no real behind-the-scenes role in WWE these days. He's solely a performer, playing the role of the commissioner of the SmackDown brand since shortly after his return last year. Before he showed up out of nowhere to set up a match with the Undertaker at WrestleMania, he had been gone from the company for seven years. Publicly, the idea was, as he told BuzzFeed in 2014, that he was trying to strike out on his own, though a 2016 VICE Sports report suggests that his departure stemmed from a power struggle with his sister, Stephanie, and her husband, Paul "Triple H" Levesque.
Regardless, striking out on his own didn't exactly go well. His big investment was with "YOU On Demand," a company that aimed to bring pay-per-view to China with a low price and relatively short window after a movie's theatrical release. Shane did interviews touting how his company would counteract the country's strong bootleg DVD market, but it did not catch on anywhere close to the degree he hoped. While he still has a role in the company (now Wecast Holdings), he does not have a day-to-day role after stepping down to make way for a Chinese CEO in 2013. Just how much money he sank into the venture is unknown.
Perhaps more indicative of Shane's business acumen is a more recent investment. According to court documents, in 2015, he was approached about investing in EnviroGrow, a proprietary, automated, and climate-controlled marijuana-growing system that ran 24/7 and was somehow theft-proof. Claiming to have promises from EnviroGrow's Joseph Palmieri Jr. about the company's ability to manufacture its system and the numbers it had sold so far, Shane invested $500,000 sight unseen. Just two and a half weeks later, he went to visit his new investment and learned that the production facility "was virtually nonexistent," with no finished products or even prototypes available for inspection. After trying without success to get his money back for almost a year and a half, Shane sued Palmieri in a case that is still pending.
If all of that doesn't sound bad enough, while he was still with YOU on Demand, Shane reportedly tried to get back into WWE with a proposal to overhaul the company's creative department. Just on the surface, this would likely be a hard sell: Dave Meltzer of the Wrestling Observer has mentioned on multiple occasions that the younger McMahon's ideas for WWE were often a bit weird and out of sync with how to draw money from fans.
(The one that actually made it to the pages of the Observer was that when he was pushing his dad to buy or start a MMA promotion, Shane proposed that he should be one of the fighters based on his faith in his "street fighting experience.")
Disgraced author James Frey, who falsely claimed that his book, A Million Little Pieces, was a memoir reflecting his real life struggles, was to be brought on as a consultant, with his "content creation company" supporting a Shane-led creative team, according to Vice Sports. Vince McMahon turned down his son's proposal.
So if Shane is, for lack of a better term, a failson, what does he do if not legacy rich-dude things?
Shane McMahon was introduced as an onscreen character in the Summer of 1998, having his first wrestling match several months later at WrestleMania XV. While he was in with X-Pac, the best wrestler in the company at the time, he still had a shockingly good match, the best on the show, and became an increasingly regular presence in the ring. While a bit of a pinball in regular matches, the gimmick of the big falls didn't surface until 2000, during his feud with journeyman martial artist and wrestler Steve Blackman over the WWF Hardcore Championship. At that year's SummerSlam event, they both climbed the side of the entrance set, fought near the top, and Shane fell back "50 feet" into a very obvious crash pad below. Blackman followed with an elbow drop from a few steps down to get the win; it was the most memorable moment on the show, even if it's since been forgotten.
Wacky Shane stunts became part of his character, the idea being that he was overly willing to use his body as a weapon and thus stood a better chance against the actual wrestlers. So when he finally came back for the Undertaker match and it helped drive a stunning amount of ticket sales to WrestleMania, it was clear that he had to make the match memorable. That was easier said than done, with Undertaker at the end of his rope and Shane never being that good in the first place. Hell, his previous "big return" saw him blow up in seconds and throw some of the worst punches in the history of Monday Night Raw. He is, without much exaggeration, a glorified backyard wrestler who has lucked into the right family and gets to have huge, high profile main events as a result. So they built the Undertaker match around a crazy stunt, and after he crashed and burned, he was allowed to look like the toughest man in WWE history by getting up from a higher fall than Mick Foley took before being dispatched.
Owens, meanwhile, was the perfect in-ring foil for Shane, and honestly, the match didn't need the big fall, because unlike the Undertaker match, it was pretty entertaining beforehand. Still, Shane did it, because it's the one thing expected of him that he can deliver. He can't run a successful business or inherit the company that he thought would be his for his whole life, but he can fall from high places really well, and he happens to be in an industry where that matters.