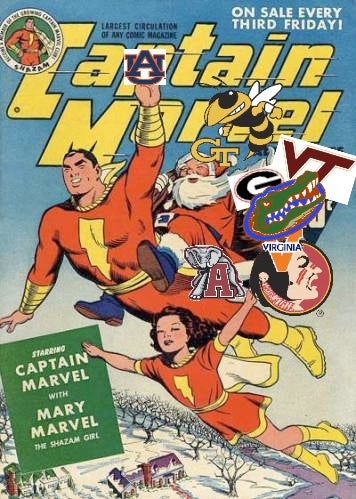 Normally, we Americans prefer to avoid conflict and band together to take on our common enemies. We avoid the petty infighting and divisive subjects that can tear apart people. In that way, we're an awful lot like the Marvel Family. When the Seven Deadly Enemies of Man rear their ugly heads, we shout our battle cries and leap into the fray as one. That is, except every third issue when it's time for battling each other because of a mind ray or an evil misunderstanding or our intra-state rivals meet in college football. Then, y'know, screw family. Screw 'em right in the lightning bolt.
First, a review of Friday's festivities:
• Boise State pounded the ever-lovin' snot out of Fresno State to the numerical tune of 61-10. The First Family of Idaho celebrated in style, we're sure.
• We watched it, but we still don't quite believe it: a Dave Wannstedt-led squad won a game that might have mattered as Pitt beat West Virginia 19-15. This shocks us more than trying to comprehend how Cincinnati could have won the Big East. We just assume Bob Huggins spoke to some of his old contacts. Dude always knew how to work a room.
• Mississippi State, please answer the white courtesy phone. Mississippi State, please answer the white courtesy phone. You missed your game against Mississippi. (Or so we assume. 45-0 non-Staters.) We believe these eggs have been whipped enough to froth the Orange Julius of our dreams.
• Bowling Green 38, Toledo 10. As promised in the pre-game wager, the losing team has to live in Toledo for another year.
If your favorite team isn't listed, it's because your favorite team blows and we hate them and you suck for liking them. (We're looking at you, Arkansas and Louisiana.)
Today's games have been covered by professionals, so we won't try again. However, we should point out that Tennessee has allegedly won the affections of Lane Kiffen, meaning he will go from taking marching orders from Al Davis to those that sing Rocky Top while sober. (But not usually.) We predict he'll call Al at his rotary phone within six months, begging to be let back into the asylum. Unfortunately, aspiring to SEC head coachhood encompasses all seven of the deadly enemies of man and that doesn't even include Nick Saban. The Marvel family can't help you now, Lane. Not even that faker Uncle Marvel.
Undefeated No. 9 Boise State routs Fresno, 61-10 [Rivals!]
Pittsburgh Beats West Virginia, Hands Cincinnati Big East Title [Bloomberg]
No. 25 Mississippi hammers rival 45-0 in Egg Bowl [Associated Press]
Bowling Green 38, Toledo 10 [Futon Report]
LSU Tigers foiled in season finale by Arkansas Razorbacks [LSU Beat]
Tennessee has allegedly won the affections of Lane Kiffen [Rivals!!]