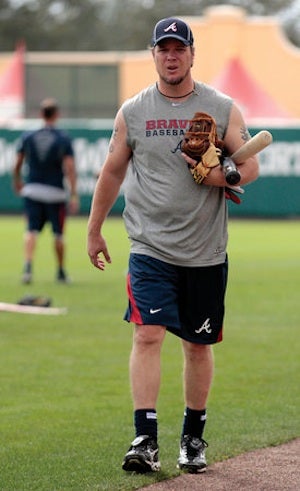 The good news is that Chipper Jones is officially seven pounds lighter than his 2011 playing weight. Now comes the rest of the news. His knee hurts. He's hitless in eight at-bats and has missed five games this spring. A scout told Jon Heyman of CBS Sports he "looks terrible" and that he seems to be moving in "slow motion." And this is what Chipper Jones had to say about himself yesterday to the Atlanta Journal-Constitution:
"The body is starting to tell me every morning when I wake up that it's getting close," he said. "I'm signed through the end of this year. If I play in a certain amount of games, I got an option for next year. I don't know what next year entails. I don't know if I can make it through this year."
Jones also said he was "nowhere close to being ready" when he came to spring training. He talked some more about his five knee surgeries, about the inescapable reality that he turns 40 next month. The elephant is indisputably in the room.
Chipper discusses uncertain future, difficult spring [AJC]
Scouts concur with Chipper; end isn't far away for future Hall of Famer [CBS Sports]