The Yankees and Red Sox split a day-night doubleheader on Sunday, trading shutouts for just the third time in the history of the clubs. They also taught us a valuable lesson about home runs: Sometimes it's not how hard you hit them, but where. Especially in a weirdo ballpark like Fenway.

In the fifth inning, Didi Gregorius homered to make it 3-0, where the score would stay, by putting a ball just inside the Pesky Pole down the line in right:
The ball traveled, according to Statcast, just 295 feet. That would make it the shortest home run in the majors not only this season, but in the three years of Statcast's existence.
If 295 feet sounds like it can't possibly be correct, well, it might not be. The Pesky Pole is officially listed at 302 feet from home plate. It wouldn't be unusual for a team to mislabel its stadium dimensions, and rumor puts it at closer in. Aerial photography allegedly shows the pole at 295 feet from home plate, and Johnny Pesky himself believes it to be closer in than the officially labeled distance. If Statcast has a margin for error, so does the distance painted on the outfield wall. Whatever it is, it's still the shortest down the line of any MLB stadium, and Gregorius's homer isn't a homer in any other ballpark.
G/O Media may get a commission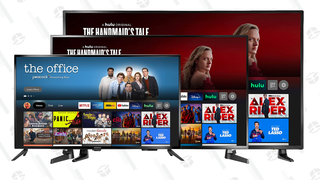 Up to 44% off
Prime Early Access - Insignia Fire TVs
The nightcap went the other way, with the Sox winning 3-0 on the back of an excellent start from David Price. The shutout almost didn't hold, as Aaron Judge sent a ball to the Triangle, the deepest part of the park in right-center. Jackie Bradley Jr. coolly, calmly tracked it the whole way and made this homer-saving grab look downright easy:
"I don't really have a ranking system, but I wouldn't say it was the most difficult catch I've ever made," Bradley Jr. said.
Statcast has Judge's fly ball at 411 feet, which makes it one of the longest outs in the majors this year. It would've been gone in most ballparks, even gone in most other parts of Fenway (where dead center is 390). Them's the breaks, and the breaks are entertaining. It's a selling point of baseball that it's the only major sport where the playing field's dimensions vary from site to site.
With the split four-game series, the Red Sox now have a three-game lead on Tampa in the East, while the Yankees are 3.5 back of Boston and 1.5 up for the second wild card. It's going to be a fun stretch run.