On the heels of The Sunday Times report detailing Mohamed bin Hammam's successful campaign to purchase the 2022 World Cup for Qatar, FIFA vice president Jim Boyce told BBC Radio 5 he would support a re-vote for a new host. Boyce says the claims in the Times report would have to be proven, but if they were and the recommendation was a re-vote, FIFA would support it.
FIFA has been conducting its own investigation into allegations of fraud for both the 2018 and 2022 bid awards and investigator Michael Garcia is scheduled to meet with Qatar officials Monday.
"If Garcia reports that wrongdoing happened for the 2022 vote then it has to be looked at very seriously," Boyce told 5 live's Sportsweek programme.

"The Fifa executive committee are 100% behind Garcia," he continued. "He will be allowed to go and speak to anyone from around the world to complete his mission. All evidence should go to him and we will then await a full report on his findings."
The main hang-up so far—the Times has only released a portion of its findings—is creating a definitive connection between bin Hammam and the Qatar bid committee. The committee has claimed he was never an official or unofficial member, which is what they will surely tell Garcia, but according to the report, the documents suggest otherwise.
And now, politicians are calling for action. Independent of these investigations, British Shadow Secretary of State for International Development Jim Murphy recently traveled to Qatar to inspect the deadly conditions migrant workers have barely endured as they build Qatar's World Cup infrastructure from scratch. The fraud (if proven), coupled with the life-averse work environment, says Murphy, leaves FIFA no choice but to act.
G/O Media may get a commission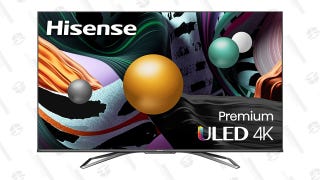 Save $350
Hisense ULED 65" Android 4K HDR Smart TV
"There now needs to be a forensic inquiry into each and every one of those emails and documents to work out who paid what, when, for what, and what was the ebb and flow of votes and voting allegiances as a consequence.

"And if that's proven, then the building work in Qatar has to stop, the vote has to be re-run, it has to be free and fair, because football fans deserve that.

"If Fifa doesn't act it's lost the right to lead the world of football," he added.
Both The Sunday Times and BBC sports editor David Bond claim to have reviewed the cache of documents that seem to explicitly point to bin Hammam's efforts to sway the vote in Qatar's favor, so proving it happened could be as simple as making those document public, or at the least, sharing it with FIFA's investigator. The Times is also revealing it's investigation in several parts in the coming weeks, so more proof may also be available.
Photo Credit: Getty Images
Qatar World Cup 2022: Fifa vice-president 'would support' re-vote [BBC]