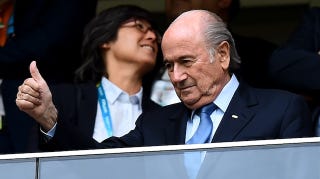 This week's edition of FIFA Weekly, a magazine that exists, for some reason, contains a short profile of FIFA president Sepp Blatter. It is one of the most rank and shameless pieces of propaganda ever committed to print.
You should not read the whole thing, but for the sake of your entertainment, we have collected the most ridiculous, hilarious ways in which Blatter, who is a corrupt, rat-faced vulgarian, is described throughout the piece:
"Visp's most famous son"
"A kind of football Pope"
"Feared top-flight striker"
"The Uwe Seeler of Upper Valais"
"Ambitious youngster"
"Cunning"
"Keen athlete"
"A talented writer"
"The smart Valais native"
"Quick-witted youth"
"Multilingual"
"Eloquent"
"Quick-witted"
"Savvy"
"Jovial"
"By no means introverted"
"Accomplished many feats that seemed impossible"
"Possesses a remarkable natural stamina on his feet, in a similar way to the immovable Mattherhorn"
"Living example of globalisation before it became an economic catchphrase"
And that's all contained in about two-and-a-half full columns of writing. Basically, FIFA Weekly wants you to believe that Sepp Blatter is the real-life version of The Most Interesting Man in the World.