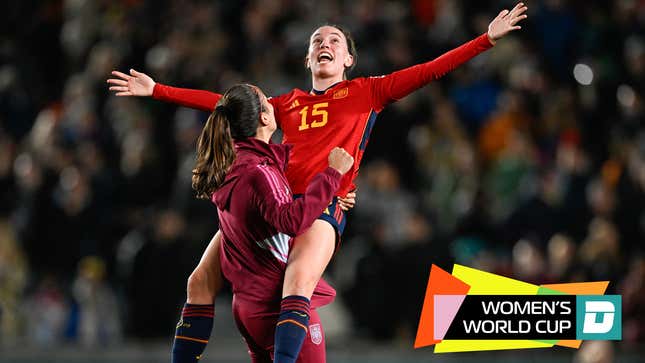 This is truly the business end of the World Cup, as we decide who will get to play for the whole Chimichanga. The first semifinal is in the books, and it was a true styles-makes-fights clash (as opposed to the staring contest England-Australia quite likely will be). Spain's technical ability vs. Sweden's physical. And it was decided when Spain eschewed all that and just hit the thing really fucking hard. Let's do it to it!
Luis Rubiales' mom locked herself in a church and is on a hunger strike
Game of the day: Spain 2-1 Sweden
As stated above, Sweden were never likely to try and engage Spain in an actual football match, because to do so usually means death for any who try it. As this tournament nears its conclusion, it's looking more and more like that disaster against Japan for Spain is fading towards the blip side more than anything meaningful. Japan scored on four of their five entries into Spain's box, which just isn't likely to be repeated by anyone. All it cost Spain was the chance to pillory Norway instead of Switzerland, which they did.
Sweden were more willing to engage Spain higher up the field than anyone else though, with Kosovare Asllani having the specific task of dropping right onto Teresa Abelleira, Spain's deepest midfielder and usual conductor of the orchestra with the ball. Usually, this would flummox Spain, but ever since that Japan match they've been more willing to just hit the ball over to their wide forwards or fullbacks directly, which is what they did a lot of here.
However this tournament ends, Spain manager Jorge Vilda is going to have endless pages written about him. At the base, he's still the guy that more than half of Spain's A-squad reviled to the point that they quit playing for the national team altogether rather than keep playing for him. Some of those complaints were about his tactics and solutions to problems on the field, and this tournament has provided evidence of why.
But it also has provided evidence of him learning on the fly and adjusting. Yes, he looked wholly unprepared for how Japan would counterattack them, though it was in a group game that didn't matter all that much. But since the introduction of Catalina Coll in goal and Laia Codina in central defense, Spain have yet to be broken down that way, at least not consistently (or at least not until they've taken the lead). While they ran into trouble against Japan in a predictable fashion — the intricate and slow build-up coming to a halt in the middle of the field right outside the penalty area allowing Japan to spring out wide — ever since Spain have shown a willingness to play more direct when called for, to switch sides of the field with the ball when they need to, and to alter personnel to either allow them to play through lines to forwards with defenders on their backs and getting runners beyond them or simply going over the top as they did today.
He's shown flexibility with his lineups, such as moving Salma Paralluelo out of the starting 11 and into a sub who has changed the last two games dramatically and rocketed Spain into the final.
Vilda's big call for the semifinal was recalling Alexia Putellas into the starting 11, which decidedly had not worked well in previous attempts. But it's hard to get the blood too angered up about that, because any manager is going to see Putellas on their roster and be awfully tempted to see if she can produce just one moment of magic to turn a match. It's what she does, and the promise is always there no matter how off she's looked.
And she looked off it again. The side-effect is that when Putellas is around it shrinks Aitana Bonmati's game. From this positional map on WhoScored you can see Bonmati (No. 6) being pushed out wider to allow more space for Putellas in the middle, which the latter couldn't do anything with. Compare it with the one against the Netherlands. Or this one in her destruction of Switzerland.
Still, Vilda corrected the mistake, with a solution we hadn't seen before this tournament, and that was inserting Paralluelo into the No. 9 position. We'd only seen her out wide. The effect was threefold in a match that had bogged down by that point. One, it shifted Jenni Hermoso back into midfield, where she was simply more mobile, more assured than Putellas, and happier to run in between the fullback and centerback to open up space. Two, it got Bonmati more into the middle. Three, Paralluelo provided a physical threat Sweden just hadn't seen and didn't deal with well, in that she could run in behind them or chase down loose balls to put pressure on retreating defenders and be something of a nuisance on crosses into the box, i.e.:
That first touch from Hermoso to control it though…I'd like to buy it a stiff Old Fashioned.
It didn't mean Sweden's plan had to be thrown out the window though. Spain looked definitively ropey in the last round trying to defend a one-goal lead late, and there's still a pretty big hunch that you can out-physical Spain's defense. Whether that's out-running them or out-muscling them, they'll crack. That had been Sweden's plan all along, really their plan all tournament, that they would get enough set pieces and crosses and they would just overpower a defender or two at the right moment. And so it was:
You may wonder how Rebecka Blomqvist has so much space in the box with Spain up a goal. You may find the answer in Irene Paredes guarding the goal line as if this were a corner: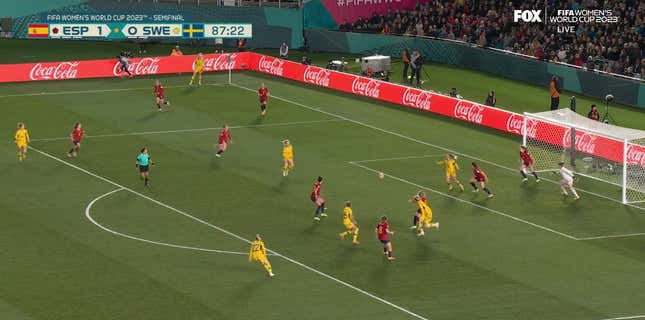 Abelleira's positioning, she's the one behind Blomqvist, isn't exactly glorious either. But a ball on the six-yard box is generally where you'd like to find your central defender.
So Spain were going to have to navigate another nervy extra time? Where Sweden would just hump more crosses into a very nervous Spanish defense? Well, Olga Carmona wasn't having any of that shit:
She had already given Sweden a warning shot in the first half, with a lightning bolt from deep that deflected mere inches outside the far post. Apparently Sweden thought that was the best she could do, as they left this space completely naked defending the corner. Whoops!
Spain negotiated the rest of injury time well for once, and are off to the final their play has deserved. Do Vilda and the Spanish FA deserve it? Probably not, but that isn't fair to the players who have made Spain such a joy to watch. It's hard to argue they haven't been one of the two best teams at this tournament, and unlike Japan, didn't shrink from the moment their brilliance had provided.
As for Sweden, it's another nearly moment, for a team that has racked them up of late. Losers in the semis of the last Euros, lost the Gold Medal game, lost in the semis of the last World Cup. But frankly, their play hasn't deserved more than this. They've been solid but not much else. They created little against the U.S. and had their keeper to thank. They were beneficiaries of Japan's timidness. Even if they blunted Spain in the semi, they took six shots total. Blackstenius had a very disappointing tourney. We didn't see all that much from Asllani. Rolfo was mainly used as a decoy. They can't argue with what they've got. They built everything at the bottom and middle, but at the top you need something a little divine, a little inspirational, a little extra. Spain had Paralluelo or Carmona or Bonmati or Hermoso providing it. Sweden didn't. That's why they'll be in the third place game again.
Goal of the day
Easy enough.
Goals that ricochet off the underside of the crossbar are so weird. Every fan's heart drops at the sight and sound of a ball hitting a post, as it usually portends to the narrowest of misses and robs us of the moment the game is built on. But it doesn't have time to reach its nadir in that drop when we see the top of the net spike and suddenly jumps up again. It's like the clutch gets caught of just a half-second and the car jolts awake.
Make up your mind
There wasn't a reffing decision that the game turned on, so thank god. But that doesn't mean Edina Alves Batista had a good game with the whistle. All players want is for a ref to be consistent. This tournament has mostly been officiated in an only-weaponry-equals-a-foul style, which maybe isn't the best but what we've come to expect. Batista was all over the map. Some pushes in the back were allowed. Some weren't. Some things were called shoulder-to-shoulder and let go, others whistled. Hermoso had her foot stomped on in the second half after passing the ball and that was let go. Then Cardona had the exact same thing happen to her a minute later and that was called. Late in the game Cardona was barely touched by Lina Hurtig as they both chased down a ball in the corner, and that was called a foul to let Spain kill the clock and deny Sweden a corner. All match we'd seen that contact, mostly, skipped over. It was a bit of a mess.
Again, it didn't really affect the outcome, but it could have. This stage deserves a little better.
---
Follow Sam on Twitter @Felsgate and on Bluesky @Felsgate.bsky.social