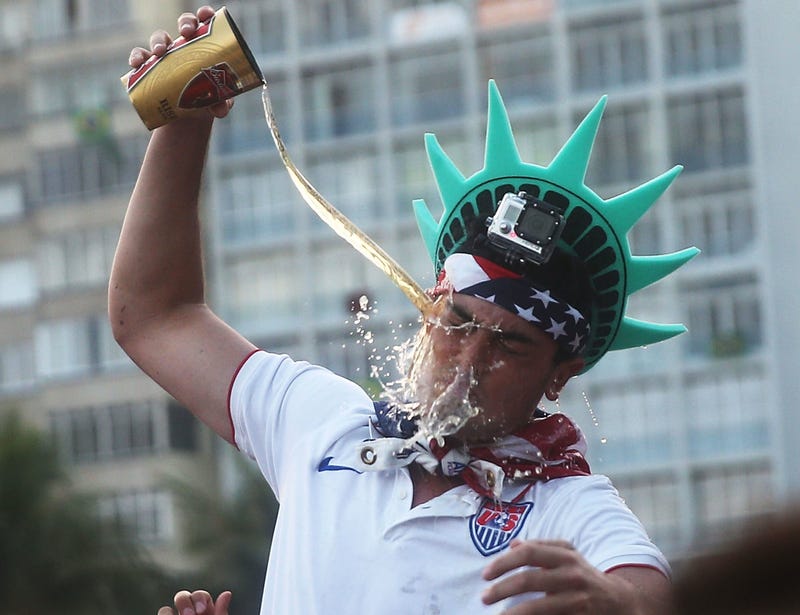 Congratulations, 2014 World Cup fans: You are very good at drinking. Or perhaps, like our American friend above, very bad at it.
FIFA secretary general Jérôme Valcke told Brazilian TV that he was "surprised" and "amazed by the number of people who were drunken and the level of alcohol" at this year's tournament. He cited instances of drunken violence, including clashes between Colombia and Uruguay supporters, England-on-England ear-biting, and Argentina fans running wild in Belo Horizonte.
In the face of high levels of fan violence, Brazil banned alcohol sales in soccer stadiums 11 years ago. But after being awarded the World Cup, lawmakers were forced to pass a bill allowing booze sales for the duration of the tournament. (Budweiser is a major World Cup sponsor.) "Alcoholic drinks are part of the FIFA World Cup," Valcke said at the time, "so we're going to have them. Excuse me if I sound a bit arrogant but that's something we won't negotiate. The fact that we have the right to sell beer has to be a part of the law."
Valcke now sounds like he's reconsidering.
In Monday's SporTV interview, Valcke appeared to soften his position, saying alcohol sales are "something we have to look at."

"If we think that it is necessary to control (alcohol sales) we will control them," said Valcke. "We would never put the organization of a match at risk."
Don't expect any changes for 2018; that tournament takes place in Russia, where grain alcohol will come out of the bathroom faucets. But 2022 remains very up-in-the-air. Qatar has two liquor stores in the entire country, with a permit required to gain entry. Alcohol is also sold in most luxury hotels, but only to foreigners. A top Qatari official said he sees no reason for alcohol to be sold at stadiums, though the country's bid did promise specially designated "fan zones" where beer could be served.
Anyway, let's check back on lush lady liberty and see if he's figured out how drinking works.
Ah, I think he's getting it. He's got nothing on Mexico, though.