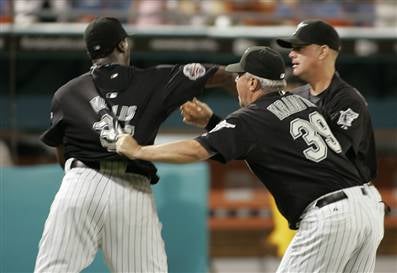 Notes on a day in baseball ...
• David Stern Does Not Approve. Here's a question: When there's a fight on the field and both the benches and the bullpens empty, are the pitchers allowed to ride into the fray on those bullpen carts? Because if they were all on the one cart, hanging off the sides like in Road Warrior, waving bats, that would be cool. Not so cool: If the cart was shaped like a large baseball, and driven by the team mascot. These are the things that come to mind while watching the Phillies and Marlins fight on Thursday ... one has to make it interesting somehow. It was in the fourth inning when Florida starter Dontrelle Willis began shouting into Philadelphia's dugout, angry that Jon Lieber had been, he believed, throwing at him. The benches cleared, shoving ensued, and someone even threw a punch (no!). The game then went past midnight before Miguel Cabrera doubled off the scoreboard in the 11th to drive in the winning run in the Marlins' 5-4 victory. The Phillies left 17 on base, which is always fun.
• 40-Proof. Baseball's first pitcher with 200 wins and 150 saves? John Smoltz, the Ancient One, who got his 200th career victory by beating former teammate Tom Glavine in the Braves' 2-1 win over the Mets. Smoltz threw seven shutout innings at Turner Field, and at 7-2 is also the NL's first seven-game winner. More importantly, Atlanta shaved New York's lead in the East to 1½ games.
• Tigermania. Detroit's Jeremy Bonderman is back! In his first game after returning from the DL, he threw eight innings and gave up four hits against the Angels ... but of course that's easier when you end up winning 12-0. Magglio Ordonez had four hits and three RBI.
• Pirates, You've Been Punk'd! Braden Looper and Yadier Molina, so not-good last season, so spiffy this year. Looper (6-3) won for the third time in four outings, and Molina moved his hitting streak to 15 games as your Friendly Neighborhood Cardinals beat Pittsburgh 3-1. But they needed five pitchers to do it.
• Like A Rock. You don't see guys with the name Micah so often these days. Rookie Micah Owings went the distance as the Diamondbacks beat the Astros 9-1, Houston's fifth straight loss.