Fighting's going to be banned from hockey; that's a given. It's just the way society and our understanding of sport are evolving. It might not happen for a long time, but I know how it'll go down: it'll be reactionary, in the immediate wake of a player's on-ice death. And it'll look a lot like what happened to George Parros last night.
The mustachioed enforcer came to Montreal in a trade this summer, because the Habs felt they weren't tough enough. The move was an explicit endorsement of the belief that you need to be able to fight to win in the NHL. Well, the Canadiens dropped the gloves five times in their seasoner opener, and lost, and Parros—who hadn't played in the preseason while recovering from shoulder surgery, but was pressed into action because Toronto pushed Montreal around last year—took one of the most sickening falls I've ever seen.
It was a freak thing: a missed punch, a loss of balance, and Colton Orr pulled Parros into the ice face-first. Blood and unconsciousness.
Fighting gets the crowd excited! Except when 21,000 fans are gaping in stunned silence because a stretcher is out and a player is heading to the hospital. No one gets hurt in hockey fights! Except when they do. "Bad luck," Michel Therrien called it. The Habs and Leafs honored Parros by waiting a whole 13 minutes to fight again.
Parros will be all right. He was diagnosed with a concussion, which qualifies as "all right" despite the frightening number of fighters who have killed themselves or died young in the past couple years. Get well soon, George, so you can come back and fight some more!
G/O Media may get a commission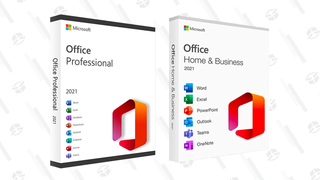 89% off
Microsoft Office Professional 2021 Lifetime License
"If you asked George tomorrow," Josh Gorges said, "he'd say just because he got hurt you don't take fighting out of hockey." Just like they didn't take it out in 2011, when the roles were reversed—Parros drove Orr headfirst into the ice, giving him a concussion that ended his season.
The backlash against fighting is only going to get stronger as the NHL makes the game safer, with the former's existence making the league's efforts seem like bad farce. Among the new rules instituted this year is one banning fighters from removing their helmets before trading punches. So as Mark Fraser and Travis Moen circled each other last night, they tentatively touched their headgear. I'll take mine off if you will. Because what's the difference between five minutes without two lackluster skaters, and seven?
Dave Lozo's much-discussed anti-fighting piece points out that nobody questions the toughness of NFL players, who don't need to fight to cement football as the bloodsport of choice. Hockey's as physical a sport as they come, and already allows for retribution and momentum swings with a well-placed check or goal. But the hulking Parros and his ilk wouldn't sniff an NHL paycheck if all hockey players did was play hockey. Fighting is an entirely separate sport, with entirely separate athletes, that interrupts hockey games—they even stop the clock for it. Designated fighters add nothing, and daily run the risk of hurting themselves and the sport. Before taking the extreme step of banning fighting altogether, why not get rid of those guys who have nothing else to offer?