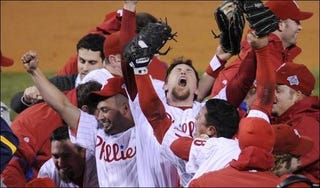 Thank goodness it's here. It's been a rough 2009 so far, but it is finally time for the baseball season to arrive and soothe our weary souls.
The World Fucking Champions will kick off the season tonight against Atlanta and not a moment too soon. The NCAA title game is tomorrow, the NBA and NHL regular season death marches are almost over and the Masters, horse racing, rec league softball and many other things that you can do outside while drunk will soon be upon us. It really is the best time of the year. It makes me so happy, I won't even take an unfounded cheap shot at the Mets in this post. That's the kind of goodwill that only this season can provide.
So enjoy tonight's fake Opening Day before the real one tomorrow, and don't be too hard on Joe Morgan. He means well. (Wow, I really am in a good mood!) Thank you for your continued support of Sunday Funday Deadspin.
A chance to be great for a whole season [Philly Inquirer]
"The Green Fields of the Mind" by A. Bartlett Giamatti [gmu.edu]