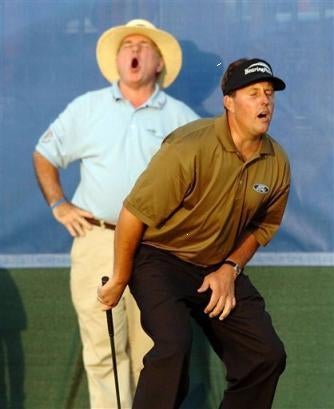 Phil Mickelson wasn't fortunate enough to make the cut at the U.S. Open this weekend, but it's just as well. Better he escape now with his life than stay through the weekend and endure such danger.
"This really was dangerous doing what I did because the rough was twice as long, and I thought they may play it like that," said an exasperated Mickelson, who played with an injured wrist this week and missed the cut at 11 over. "With the liquid fertilizer and this new machine that makes the grass suck straight up, it is absolutely dangerous.

"The first practice round on Monday, (massage therapist) Jim Weathers had six other appointments — people hurting their ribs, their backs, their wrists. It's dangerous, it really is."
You hear that? Oakmont is so difficult that SIX PEOPLE REQUIRED MASSAGES. If the USGA keeps this up, eventually, someone's going to need an ibuprofen. Will that make them happy?
He's right, of course. Every time I finish a round of golf, I just thank Jesus that I was able to escape without suffering any debilitating injuries. Not only is the rough long, but the sun is hot, sometimes the wind is blowing, and you never know when some wisenheimer might poke you in the butt with the flagstick. It's hell out there.
But I think that's why most people play. To put themselves so close to the edge of danger
Mickelson: Oakmont 'absolutely dangerous' [Daily Herald]