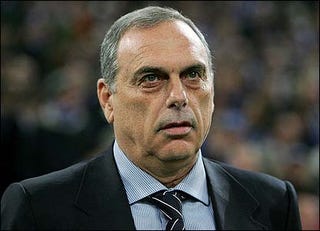 Remember how an English court said the tabloids weren't barred from reporting on John Terry's private life? That's what we call a precedent.
Avram Grant, the manager of Portsmouth, was photographed and confronted exciting the "Thai Siam Massage Parlour," which besides being redundantly named, is not a massage parlor at all. It's been shut down by police as a brothel, "where prostitutes charge up to £130 for intercourse." That "up to" worries me; I'm not sure I want to know how to get the price down.
The soccer boss then stepped out of the car wearing a long black coat over his branded club training gear and entered the parlour's reception. We waited for nearly an HOUR before his driver started up his engine to edge closer to the entrance.

Minutes later Grant walked out with his mobile held firmly to his ear.

Our reporter confronted him and asked him to confirm his identity.

Grant did so and smiled as he admitted he had been in a brothel.
But here's the interesting part: this all happened back in December. The Sun claimed it was forbidden from publishing it by "creeping privacy laws," perhaps an injunction similar to the one John Terry had against the News of the World.
Well, the Terry injunction was struck down last week. And though rumors have named Grant as the john for weeks, only now did the papers feel comfortable splashing it all over their pages. And once the British tabloids are freed from their minimal restraints, it's open season.
Get any rompy Pompey Avram? [The Sun]
Avram Grant: Premier League boss's brothel visit [Daily Telegraph]