Each week during college football season we put the conventional polls to shame by ranking every FBS team from 1-125, by whatever standard we see fit. As always, last week's rankings were not consulted.
1. FLORIDA STATE (13-0). For outsiders, the big story at FSU over the past decade was the gradual erosion of the awesome talent base that sustained the halcyon "Free Shoes University" juggernaut throughout the nineties, and skeptics had every reason to doubt Jimbo Fisher's capacity to resurrect the beast. Old habits died too hard: Last year's out-of-nowhere, come-from-ahead loss at N.C. State marked the eighth time in eight years the Seminoles had been ambushed as a ranked team by an unranked underdog–all on the road–and the fourth loss in three years under Fisher in a game they were favored to win by double digits. Even when the talent was there, FSU was too inconsistent. And compared to the national elite, at the end of the Bowden era the talent was no longer there.
But this year, man, it is everywhere. Consider that the 2012 Seminoles lost 11 players to the draft, more than any other school, including a first-rounder at quarterback and all four starters on the defensive line. By the time it's finished the 2013 edition is going to put that lineup to shame. Of the 22 offensive and defensive starters in Saturday's win over Duke, 18 arrived as four- or five-star recruits, and 11–fully half–were rated in Rivals.com's top 100 prospects in their respective classes. Nine* were projected as the No. 1 or No. 2 prospect at their respective positions, including Jameis Winston, the No. 10 overall player in 2012. (To put that last number in perspective, Alabama has five starters who were ranked No. 1 or 2 at their positions, and the Crimson Tide have assembled Rivals' No. 1 overall recruiting class five of the last six years. Auburn has three.) After a solid decade of diminishing returns on good-not-great recruiting efforts under Bowden, the celebrated 2011 and 2012 classes under Fisher are leaving the hype in the dust.
(*If you're keeping score at home: Jameis Winston, James Wilder Jr., Nick O'Leary, Mario Edwards Jr., Timmy Jernigan, Eddie Goldman, Christian Jones, Lamarcus Joyner and Ronald Darby.)
G/O Media may get a commission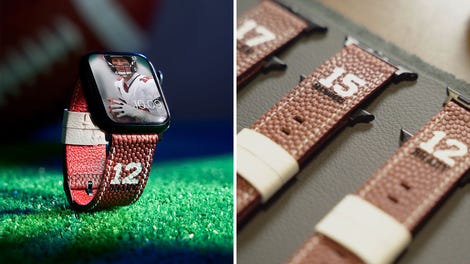 Official NFL PRODUCTS
Official NFL Apple Watch Bands
All of which is to say that any and all comparisons to Notre Dame last year (or, say, Ohio State in 2006-07) in respect to "SEC Speed," etc, are woefully misguided. True, the schedule (like the vast majority of college schedules) hasn't presented FSU with a week-in, week-out gauntlet. But where the Fighting Irish scratched, clawed and lucked their way into the championship game against Bama by the skin of their teeth, the Seminoles have obliterated every opponent on that schedule with historic ease: At 42.3 points per game, they're on pace to record the widest scoring margin of any major team, against any schedule, since World War II.
2. AUBURN (12-1). Auburn, on the other hand, is coming from so far out of left field after a last-place debacle in 2012 that it took eight weeks for the Tigers even to appear in the Associated Press poll, where they debuted at No. 24 on Oct. 13. Six days later, they came from 10 points down in the fourth quarter to take down Texas A&M on the road, 45-41, leapt all the way to No. 11 in the initial BCS standings, and have climbed at least one rung in every subsequent edition. The only other team in the BCS era to make the championship game without appearing in the preseason polls is Notre Dame in 2012; the only team to come from outside the top ten in the initial standings is LSU in 2003. No one has beaten the odds Auburn has beaten.
It goes without saying that the Tigers (unlike Florida State, dominant from start to finish) were a vastly better team over the last six weeks than they were over the first six, when they looked like just another middle-of-the-pack striver in a 35-21 loss at LSU and unremarkable wins over Washington State, Mississippi State, and Ole Miss by a combined 19 points. What are they going to look like after a 28-day layoff–the same amount of time that elapsed between the loss in Baton Rouge and the galvanizing upset at A&M? Against Missouri, the offense looked like it could have gone ahead and run roughshod over just about anyone. But only the most obsessed SEC superiority theorists could have come away thinking the defense is ready for Jameis Winston.
3. ALABAMA (11-1). AJ McCarron is not going to win the Heisman, and now that Winston isn't going to be charged with rape, there's no coherent case to be made that he should. Of the also-ran candidates in New York, though, I like McCarron the most and think he's being shortchanged by the notion he's there only as a nod to his "career achievement." No quarterback who commits to play for Nick Saban expects to put up gaudy numbers, and I've personally called him "boring," a generic, default candidate when the stat-driven guys fall by the wayside. Ironically, it was the Auburn game that changed my mind about that. If anyone is not to blame for that loss, it's McCarron, who passed for 277 yards and three touchdowns, had a fourth touchdown dropped, didn't commit a turnover, and repeatedly put the team in position to win in the second half. He was also money at Texas A&M, where he won a quarterback duel against Johnny Manziel with the best stat line of his career, and against LSU, where Alabama scored on its last six possessions in a rout. In his team's three biggest games, McCarron had 10 touchdowns, zero interceptions and an efficiency rating of 192.8, best in the nation against ranked opponents.
That's in marked contrast to the competition: Aside from Winston, every other quarterback who appeared on the Heisman radar this season was effectively eliminated by a horrible performance in a nationally televised defeat–Tajh Boyd against FSU, Marcus Mariota against Stanford, Bryce Petty against Oklahoma State, Manziel against LSU and Missouri. (The less said about Jordan Lynch, the better.) But besides leaving as the most prolific passer in Alabama history, McCarron reliably defied his "within the offense" reputation when given the opportunity, against the best competition he faced. It was just so rarely necessary otherwise.
4. STANFORD (11-2). Members of the playoff selection committee that will replace the BCS next season keep talking about the importance of strength of schedule, and if that's the case I would really love to know how they would handle the question of two-loss Stanford vs. one-loss Alabama, Baylor and Michigan State. It's an important precedent for how this thing is going to work: Does the committee care more about quality wins, or quality losses?
If it's the former, Stanford is a no-brainer, boasting as many wins against the current BCS top 25 (four) and Jeff Sagarin's top 30 (six) as the Crimson Tide, Bears and Spartans combined. Accordingly, the Cardinal rank third according to both the BCS computer polls and the all-encompassing F/+ ratings at Football Outsiders. (One of the components of F/+, the Fremeau Efficiency Index, actually ranks Stanford No. 1.) If it's the latter, Stanford has no excuse for losing to a pair of unranked teams, Utah and USC, the flop in Salt Lake City especially standing as one of the most damning defeats of the season. My assumption, based on the way human polls have operated from the beginning of time, is that "strength of schedule" applies mainly as a bulwark against Fresno State or Cincinnati or whomever happens to be bubbling up from the basement in a given year. If they start splitting hairs in the major conferences, we really are in a brave new world.
5. BAYLOR (11-1). Baylor's season is just superlatives all the way down: With Saturday's frigid 30-10 win over Texas, the Bears set a school record for wins (11), clinched their first outright conference championship since 1980 and put themselves in position for the highest poll finish in school history. (It also gave them wins over both Oklahoma and Texas in the same season for the second time in three years, as astounding a feat as any of the others.) The only downside of a Fiesta Bowl berth is the opponent, Central Florida. If you're still skeptical of Baylor's cred against top-shelf, playoff-caliber opponents, is there anything the Bears can do against UCF to convince you otherwise?
6. MICHIGAN STATE (12-1). The defense carries the day in East Lansing, always, and the Spartans would be nowhere without it. But where would they be without dramatic improvement from the offense? Certainly not on their way to the Rose Bowl: In September, the offense was so inept it managed a grand total of three touchdowns against Western Michigan, South Florida and Notre Dame to the defense's four. In Big Ten play, though, quarterback Connor Cook grew into a reliable starter, and against Ohio State he was a minor revelation: Stealing the show from his more decorated counterpart, Braxton Miller, Cook passed 40 times for 304 yards and three touchdowns in Michigan State's biggest win since its last Rose Bowl, in 1988, if not longer. While Miller faded down the stretch, Cook finished by hitting 8 of 12 passes in the fourth quarter, including the go-ahead touchdown, and finished with the first 300-yard passing game of his career. Though presumably not the last.
7. OHIO STATE (12-1). Predicting the immediate future is an inherently Sisyphean task, in college football as in everything else, so I tend to bristle a bit at the concept of "overrated." In the Buckeyes' case, for example, they were rated appropriately before Saturday's loss in the Big Ten championship game, and they're rated appropriately after Saturday's loss. But when you get right down to it, yes, with a national championship on the line, Ohio State did look as ordinary against its first top-ten opponent in two years as skeptics guessed/hoped it would. Opposite the nation's No. 1 total defense, the offense finished with season lows for yards (374) and points (24), and junior quarterback Braxton Miller reverted to the glorified tailback role he played as a true freshman. For a while, that was fine: Miller's athleticism was the spark in a 24-point rally that put OSU in front, 24-17, late in the third quarter. From that point on, though, he made no impact as a runner, missed his last six passes of the night and finished just 8-of-21 passing for 101 yards; with the Rose Bowl slipping further into the rearview mirror in the fourth, the Buckeyes managed a single first down.
8. OREGON (10-2).
9. ARIZONA STATE (10-3).
10. SOUTH CAROLINA (10-2).
11. MISSOURI (11-2). Every so often, you can actually see the light going on for a young player growing into his potential, and for Dorial Green-Beckham, Saturday was the day. The most hyped recruit in the nation in 2012, Green-Beckham looked the part against Auburn, coming down with six catches for 144 yards (a career high) and two touchdowns, the second delivering the frightening spectacle of a 6-foot-6 übermensch outrunning everyone else on the field for 55 yards. Not that DGB has been quiet as a sophomore–he's tied for the team lead in receptions, a dozen of them going for touchdowns–but the SEC championship game was the biggest stage of his career, by far, and the most reassuring sign yet that he is on his way to becoming the star the scouts said he would be.
12. OKLAHOMA (10-2). The Sooners are bound for the Sugar Bowl, making them one of the most out-of-nowhere BCS choices in recent memory. Before Saturday's win at Oklahoma State, bowl projections unanimously accepted the Cowboys as the automatic rep from the Big 12, and left Baylor and Oregon to lobby for the last spot if Northern Illinois bit the dust in the MAC. When the Cowboys and Huskies lost, suddenly an Oklahoma outfit that had finished on a three-game winning streak looked a lot more attractive than the Ducks, who were trounced in two of their last four and didn't look much better in a come-from-behind, one-point escape over flailing Oregon State to close. As of Saturday, the Sooners seem to be going in the opposite direction, despite a) Going 59 minutes without an offensive touchdown in Stillwater, and b) Ending the regular season with an even murkier quarterback situation than they faced in the beginning. Check back on Jan. 2 to see how well the sudden dose of optimism is holding up at halftime against the Crimson Tide.
13. OKLAHOMA STATE (10-2). The over/under against Oklahoma was 56.5, which seemed to be safely out of reach until the last play, when the Cowboys' final, desperate attempt to lateral their way to a miracle resulted in a fumble and a meaningless Sooner touchdown–meaningless, except for the fact that it made the final score 33-24 instead of 27-24, thereby flipping the money to gamblers who bet the over. Even more frustrating for the losers, they still would have won if Oklahoma State's kicker, Ben Grogan, hadn't nailed a 41-yard field goal during an earthquake.
14. CLEMSON (10-2). It's been a rough decade for the Orange Bowl, which hasn't been relevant or entertaining in years: Since hosting USC's championship blowout of Oklahoma in 2005, the game has featured exactly one matchup of top-10 teams (Virginia Tech vs. Kansas in 2008), and six of the last seven have been decided by double digits. The most dramatic moment in that span is probably Iowa quarterback Ricky Stanzi telling a national TV audience in 2010, "If you don't love it, leave it." In that context, Clemson-Ohio State is a borderline blockbuster, even if neither team won its conference and both teams lost their last game to opponents who subsequently rank higher in the final standings. Otherwise, the Tigers and Buckeyes are name-brand powers that both spent the entire season in the top 10–as late as mid-October, both were in the top five, conceivably on track to square off in the championship game–and boast a pair of prolific, franchise quarterbacks opposite hot-and-cold defenses that ended the regular season looking fairly frigid. And if all else fails, there's always the b-roll of Woody Hayes punching Charlie Bauman the only other time the Tigers and Buckeyes have played.
15. UCLA (9-3).
16. LSU (9-3).
17. WISCONSIN (9-3).
18. CENTRAL FLORIDA (11-1). The Fiesta Bowl drew the short straw in this year's BCS draft, leaving it with no choice but to award the final big-money ticket to UCF, which claimed the inaugural BIG AMERICA championship thanks in part to come-from-behind wins over Memphis, Temple, South Florida, and SMU by a combined 17 points. (In the first three of those games, the Knights trailed in the final five minutes.) Obviously, Baylor-Central Florida does not exactly qualify as a must-see clash of the titans. My dad, whose job is taking him to Arizona over New Year's, was excited about going to the game, right up to the moment I informed him of the matchup. He reacted like I'd told him the game had been replaced by a community theater production of "Rent" and decided not to bother.
Still, the Knights are better than most of America is willing to give them credit for: With wins over Penn State and Louisville and no embarrassing defeats–close calls notwithstanding, their only blemish is a 28-25 loss against South Carolina on Sept. 28–they're on much sturdier ground than Louisville was at this time last year, when the Cardinals made the Sugar Bowl as Big East champs despite losing two of their last three to Syracuse and UConn. From there, they ambushed Florida in the biggest upset in BCS history, propelling Louisville into the top 10 to open this season and QB Teddy Bridgewater to the top of draft boards everywhere. Blake Bortles making his move in a shootout with Bryce Petty wouldn't be nearly as surprising.
19. LOUISVILLE (11-1).
20. FRESNO STATE (11-1).
21. GEORGIA (8-4).
22. NOTRE DAME (8-4). Brian Kelly will spend the next three weeks attempting to replace both of his coordinators while also feigning enthusiasm for a Pinstripe Bowl appearance against Rutgers, the most depressing postseason scenario imaginable on multiple levels. Who on earth willed this game into existence? There's a rich, insufferable tradition at Notre Dame of leaving invitations to lesser bowls on the table, which seems entirely appropriate here. For their sake, and America's. Win or lose, when the inevitable "Fire Kelly" campaign really starts to pick up steam over the next year or two, "encountered Rutgers in the Pinstripe Bowl" ought to be at the top of the list of grievances.
23. USC (9-4).
24. WASHINGTON (8-4). Every winter, some Pac-12 school with a fresh vacancy sends Chris Petersen a bouquet of roses made entirely of $100 bills, and every winter Petersen demurs, politely rejecting his suitor in favor of the comfortable niche he's carved out for himself at Boise State. It's an annual courtship ritual on par with the hooded seal. Now that he's finally made the leap, though, the timing feels right on both ends. After seven wildly successful seasons in Boise–a span that included five top-10 finishes, two BCS wins, and a promotion from the WAC to the Mountain West–the 2013 Broncos turned in their worst campaign in more than a decade, and the window for upward mobility appears to be closing fast. Meanwhile, Washington gets a coach who was arguably more sought-after than the guy he's replacing, USC-bound Steve Sarkisian, just as the program is beginning to emerge from a decade-long stupor. Sarkisian laid a solid foundation over the scattered remains of the Ty Willingham era, but ultimately finished 1-9 against North Division heavies Oregon and Stanford. Petersen has proven big-game chops.
And although he leaves with a similar record at Boise, Petersen is not Dan Hawkins: Unlike his former boss, Petersen has prior experience in a major conference, and unlike Colorado when Hawkins arrived in the wake of a debilitating recruiting scandal in 2006, Washington has both the administrative will and the resources to compete right away. This is as close to an A-plus hire as you can get without promising your first-born to Nick Saban.
25. TEXAS A&M (9-4).
26. NORTHERN ILLINOIS (12-1). I've already gone out of my way to trash Jordan Lynch's credentials for the Heisman in this space, and that was before he was picked off twice in Northern Illinois's loss to Bowling Green last Friday. So I don't feel any need to pile on now that he's en route to Manhattan as an actual finalist, except to say that I refuse to believe anyone who follows college football even casually regards Lynch as one of the five or six "most outstanding" players therein. Over Teddy Bridgewater, Aaron Donald, and Mike Evans? No. Something else is at work on those ballots, something too dumb to fathom.
27. BYU (8-4).
28. TEXAS (8-4). As of this writing, Mack Brown is still (officially) the head coach at Texas and insists "nothing has changed" despite widespread reports of his imminent demise. Meanwhile, everyone else expects Brown to be out by the weekend, even if comes down to Rick Perry mobilizing the national guard to storm the well-apportioned panic room in Brown's office. In the time it took for this sentence to travel from my fingers to your eyeballs, control of the Longhorns will likely have been assumed by a Frankensteinian borg assembled from various parts of Nick Saban, Jon Gruden, and Matthew McConaughey. The borg will make $8.6 million per year with a two percent stake in the Longhorn Network. I can't confirm, that's just what I'm hearing.
29. DUKE (10-3).
30. MIAMI (9-3).
31. VIRGINIA TECH (8-4).
32. IOWA (8-4).
33. ARIZONA (7-5). Following standard Heisman logic, the most baffling snub came at the expense of Ka'Deem Carey, who rushed for well over 100 yards in every game and turned in his best effort of the season (206 yards, 4 TDs) in a blowout win over Oregon. Unlike most of Arizona's games, which kicked off after 10 pm ET, that was an afternoon game on national TV. And anyway, it's not like voters weren't already well acquainted with Carey after he led the nation in rushing in 2012. Is it possible his consistency worked against him? At some point, the guy is so relentlessly productive it's too easy to take him for granted.
34. OLE MISS (7-5).
35. VANDERBILT (8-4).
36. BOWLING GREEN (10-3).
37. BALL STATE (10-2).
38. GEORGIA TECH (7-5).
39. KANSAS STATE (7-5).
40. CINCINNATI (9-3).
41. HOUSTON (8-4).
42. RICE (10-3). Officially, a little over 20,000 people showed up Saturday to watch Rice wins its first conference championship since 1957, and from the looks of it the actual crowd was much smaller than that. To compensate, ESPN cameras reported to zooming in tighter than usual on crowd shots to crop out huge swathes of empty seats, which gave one ambitiously vulgar fan just the opening he needed to live the dream:
It appears congratulations are in order all around.
43. MINNESOTA (8-4).
44. NEBRASKA (8-4).
45. PENN STATE (7-5).
46. MICHIGAN (7-5).
47. WASHINGTON STATE (6-6).
48. OREGON STATE (6-6).
49. UTAH (5-7).
50. TEXAS TECH (7-5).
51. MISSISSIPPI STATE (6-6).
52. BOISE STATE (8-4). The Broncos' new boss, Bryan Harsin, is a Boise native who walked on at Boise State, spent a decade there as an assistant, and returns at 37 years old as the 11th head coach in program history. Of the previous 10, according to the Idaho Statesman's Chadd Cripe, Harsin has played or coached for six.
53. UTAH STATE (8-5).
54. MARSHALL (9-4).
55. EAST CAROLINA (9-3).
56. NORTH TEXAS (8-4). Holy smokes, the Mean Green are playing on New Year's Day! In the Cotton Bowl! Against… uh, UNLV? In the… what the hell is the Heart of Dallas Bowl? Something has gone terribly wrong in our nation.
57. NAVY (7-4).
58. NORTH CAROLINA (6-6).
59. BOSTON COLLEGE (7-5). I don't have much to say about the nation's leading rusher, Andre Williams, as a player, because I barely saw him play aside from highlights. As a Heisman candidate, though, I find him fascinating because I'm fairly certain the vast majority of voters who sent him to New York haven't seen him play, either. Boston College's highest-rated game of the season was an Oct. 12 loss at Clemson, where Williams finished with 70 yards and zero touchdowns on 24 carries, and that was overshadowed in the same time slot by Florida-LSU. The three monster games that put him on the map in November aired on ESPN3 (vs. New Mexico State) and the ACC Regional Sports Network (vs. N.C. State and Maryland). If you watched Boston College-New Mexico State over the Internet you deserve a Heisman vote because that is some fucking passion for the game.
60. PITTSBURGH (6-6).
61. SYRACUSE (6-6).
62. MARYLAND (7-5).
63. TOLEDO (7-5). The Rockets are this week's occupants of the CRATER OF MEDIOCRITY, the depressing hole at the dead center of the rankings, which is only appropriate for a team that was just snubbed for a bowl bid despite three head-to-head wins over teams that made the cut (Bowling Green, Navy, and Buffalo), and the toughest overall schedule in the MAC, according to Jeff Sagarin. Remember, kids, this is what happens when you lose to Akron.
64. BUFFALO (8-4).
65. INDIANA (5-7).
66. NORTHWESTERN (5-7).
67. TENNESSEE (5-7).
68. LOUISIANA-LAFAYETTE (8-4).
69. WESTERN KENTUCKY (8-4). Bowls had so little interest in the Hilltoppers that the Sun Belt Conference attempted to literally bribe a bowl into inviting them, and couldn't find any takers. When you're so far down the ladder even the Beef 'O' Brady's Bowl isn't willing to get its palms greased, it might be time to start reassessing your priorities.
70. MIDDLE TENNESSEE (8-4).
71. TEXAS-SAN ANTONIO (7-5).
72. TULANE (7-5).
73. FLORIDA (4-8).
74. WEST VIRGINIA (4-8).
75. TCU (4-8).
76. UNLV (7-5). The Runnin' Rebels are on their way to the postseason for the first time since 2000, thereby snapping the longest bowl drought in the Mountain West and one of the longest in the country. (Only two I-A/FBS teams have failed to land in the postseason since the turn of the century: Eastern Michigan, now 36 years removed from the 1987 California Bowl, and New Mexico State, which hasn't landed in a bowl game since the 1960 Sun Bowl.) Seven wins is one more than coach Bobby Hauck had in his first three seasons here combined, and one more than he needed to punch his ticket for three more.
77. SAN DIEGO STATE (7-5). If you have any interest whatsoever in how the postseason sausage gets made outside of the big-money bowls, this story from the San Diego Union-Tribune spells it out pretty clearly: "With ESPN owning 10 bowls, things are shifting so that it's not necessarily about the community anymore. It's about ESPN and their interest in what they want to accomplish with owning the bowl."
78. SAN JOSE STATE (6-6).
79. COLORADO STATE (7-6).
80. COLORADO (4-8).
81. OHIO (7-5).
82. RUTGERS (6-6).
83. SMU (5-7).
84. ILLINOIS (4-8).
85. WAKE FOREST (4-8).
86. ARKANSAS STATE (7-5). If Miami (Ohio) is the "Cradle of Coaches," Arkansas State is the assembly line: Bryan Harsin is the third consecutive head coach to leave ASU for greener pastures after a single season in Jonesboro, following Hugh Freeze's departure for Ole Miss in 2011 and Gus Malzahn's exit for Auburn in 2012. The interim coach in the GoDaddy Bowl, John Thompson, is the same guy who filled in for the GoDaddy Bowl last year, making him both the fifth and seventh new head coach here since 2010. You know, it's important to establish a sense of continuity.
87. SOUTH ALABAMA (6-6).
88. LOUISIANA-MONROE (6-6).
89. TROY (6-6).
90. TEXAS STATE (6-6).
91. FLORIDA ATLANTIC (6-6).
92. ARKANSAS (3-9).
93. IOWA STATE (3-9).
94. CENTRAL MICHIGAN (6-6).
95. AKRON (5-7).
96. KENT STATE (4-8).
97. NEVADA (4-8).
98. WYOMING (5-7).
99. KANSAS (3-9).
100. CONNECTICUT (3-9). UConn emerged from three months of abject hopelessness with three consecutive wins to grow on, including an out-of-nowhere upset over Rutgers and a 45-10 rout over Memphis to close it out. As dreadful as they were through the first nine games, the Huskies will hit 2014 with a new head coach, a freshman quarterback who began to find his stride late, and a sense of progress that has been sorely missing from the moment Randy Edsall bailed on the program three years ago.
101. VIRGINIA (2-10). UVa is bringing Mike London back for a fifth season despite an 0-8 finish in ACC play and 10 consecutive losses at the hands of FBS opponents, nine of them coming by double digits. The good news: Somehow, the Cavaliers have standing commitments from two of the top 10 overall players in the 2014 recruiting class, after landing the first five-star prospect of London's tenure (tailback Taquan "Smoke" Mizzell) in 2013. But they still have no reliable quarterback, and not much excuse for stringing the London era out any longer if the record remains below .500.
102. N.C. STATE (3-9).
103. KENTUCKY (2-10).
104. MEMPHIS (3-9).
105. CALIFORNIA (1-11).
106. TULSA (3-9).
107. LOUISIANA TECH (4-8). In 2012, Louisiana Tech led the nation in scoring offense at 51.5 points per game. In 2013, the Bulldogs finished 112th at 19.2 points per game, failing to make it even halfway to last year's average in nine of 12.
108. NEW MEXICO (3-9).
109. SOUTH FLORIDA (2-10).
110. TEMPLE (2-10).
111. PURDUE (1-11).
112. AIR FORCE (2-10). The 2013 Falcons set the Air Force record for losses and overall losing percentage, marking this as the worst team in Academy history. It earned the distinction: After an opening-day win over Colgate, the Falcons hit the skids hard in Mountain West play, finishing 0-8 with blowout losses at the hands of Utah State (52-20), Wyoming (56-23), UNLV (41-21), and Colorado State (58-13), burning through three different starting quarterbacks along the way.
113. HAWAII (1-11).
114. ARMY (3-8).
115. UTEP (2-10).
116. UAB (2-10).
117. NEW MEXICO STATE (2-10).
118. EASTERN MICHIGAN (2-10). The Eagles' new boss, Chris Creighton, has coached everywhere, including stops in Sweden, the NAIA, and Division III–at his last job, he even coached in the first American football game on the continent of Africa, leading Drake University to a 17-7 victory over a Mexican all-star team in Arusha, Tanzania–and has yet to suffer a losing season in 17 years as a head coach. Meanwhile, Eastern Michigan is 18 years removed its last winning season. Obviously, this ends with a tape of a frustrated, unhinged Creighton calling EMU players the sorriest sacks of shit he's ever seen. The only question is, how long will it take before he snaps? Ron English made it almost five years, so I'll give the new guy until 2018.
119. WESTERN MICHIGAN (1-11).
120. MASSACHUSETTS (1-11).
121. IDAHO (1-11).
122. FLORIDA INTERNATIONAL (1-11). Although FIU did win a game, beating Southern Miss on a last-second field goal in October, according to Jeff Sagarin's "Predictor" rating the Panthers would still be underdogs in a hypothetical game against any other FBS opponent, including Southern Miss and the other winless teams ranked immediately below them here. Just a reminder that they fired a perfectly good coach for this, and everyone aside from athletic director Pete Garcia saw what was coming the second they did.
123. SOUTHERN MISS (1-11).
124. GEORGIA STATE (0-12).
125. MIAMI, OHIO (0-12). Seriously, though, how bad was the bottom of the MAC? Against teams other than one another, the conference's bottom four–Eastern Michigan, Western Michigan, UMass, and Miami–amassed a combined record of 1-41, the lone victory coming at the expense of an FCS outfit, Howard, and they can't even take pride in that because it sounds like they just jumped some random dude named Howard. Of the 41 losses, only three were decided by single digits, and two of those were against the team that opened the season in this spot, Akron. The bar does not go any lower.
Matt Hinton writes about college football for Football Outsiders and SB Nation's Football Study Hall. Follow on Twitter, @MattRHinton.