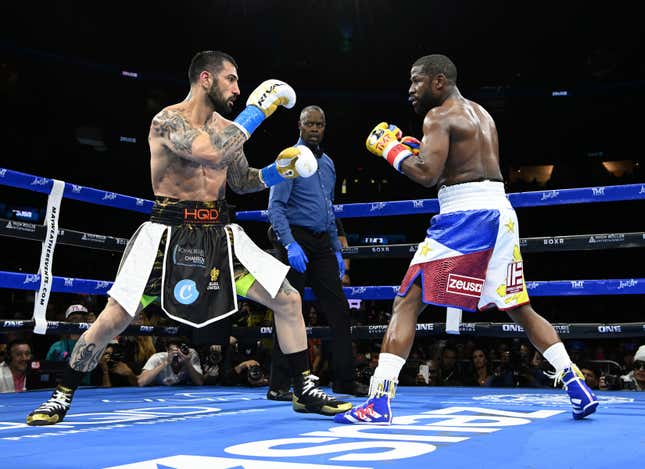 Even in retirement, Floyd Mayweather Jr. still knows how to sell a fight and swindle folks out of money. Since officially retiring from the pro boxing ranks undefeated in 2017, Mayweather has put on a few big-money exhibitions, with most becoming a shitshow in one way, or another. The latest money grab involved John Gotti III stepping into the ring against Mayweather, and it ended in controversy, as most of these exhibitions have.

How running an NFL team is like running a restaurant | Chef Emeril Lagasse
Mayweather has the formula down pact. There's always some controversy in these matches, whether in the build-up, the actual fight, or the aftermath. As the say goes, "Always leave them wanting more." That's exactly what's happened with this Gotti fight, so surely, we'll see these two square off again for an even larger payday down the road.
Members of both camps got into an altercation from the jump. Like most of these exhibition fights, Mayweather danced around, mocked, and toyed with Gotti before referee Kenny Bayless called it in the sixth round, disqualifying Gotti. And for what? Excessive holding, putting an illegal hold on Mayweather, although Gotti complained of being hit in the back of the head. Who knows. But of course, the fight didn't end upon the ref's decision to stop the action.
The grandson of New York mob boss John Gotti wasn't done fighting in his mind. Gotti went around Bayless and confronted Mayweather again, looking to throw more blows before members of both men's teams entered the ring along with others at ringside.
None of this should be shocking since it's Floyd at the center of it all. If there's one thing humans rarely do today, it's learn from prior mistakes. For years, everyone complained about Mayweather's fighting style, called it boring, and all these other things, yet they'd still go out and buy his fights. What he's doing now is no different than what he was doing 10 years ago, except these fights don't count toward his career record.
Money Mayweather is called money for a good reason. He knows how to swindle the masses out of theirs. He really learned a lot from Vince McMahon and WWE back in 2008. People love drama and confusion despite how much they claim to despise such behavior. Everyone loves these train wrecks and continues to prove it by watching and purchasing these Mayweather fights. Seeing how the bout with Gotti ended, there will likely be a rematch. Just wait; it's coming.