Time once again to root around in the world of minor league baseball with Rick Chandler's Minor Enterprise!
Oh for the innocence of yesteryear, when baseball's idea of cheating was fooling a baserunner with an errant potato. It's hard to believe that it's been 20 years since The Great Potato Caper, when Dave Bresnahan of the Williamsport Bills concocted what is probably the best trick play in baseball history. On that glorious day in 1987, Bresnahan — a backup catcher who was hitting .197 — fooled a Reading Phillies baserunner by throwing a potato into left field, and then tagging the runner out at the plate with the real ball. Bresnahan was released from the Cleveland Indians organization following the stunt and fined $50, but quickly ascended to a revered spot in baseball lore that has not diminished to this day.
The Williamsport Crosscutters (as the team is now known) will mark the 20th anniversary of Bresnahan's play with Potato Night on Saturday, Aug. 18, when the Class-A New York-Penn League team plays host to the State College Spikes at 7:05 p.m.
"Frankly, I am very surprised at the level of interest that my stunt produced and the fact that people still make a big deal about it, even after 20 years," Bresnahan said recently. "A minor league season gets to be a long grind, particularly when you are a second-string catcher and hitting only .149. I just wanted to have some fun and break up the monotony a little."
On August 18, the first 1,000 fans will receive a Bresnahan bobblehead that depicts him with a potato in his throwing hand. And Bresnahan himself will be on hand to sign autographs, meet fans and help re-enact the event. A rare opportunity to get a signed Dave Bresnahan potato bobblehead? I am on my way as soon as I'm done typing this.
Bob Vance presides over The Office Olympics, a live report from Awful Night, plus the majesty of the World's Tiniest Elvis, all after the jump.
G/O Media may get a commission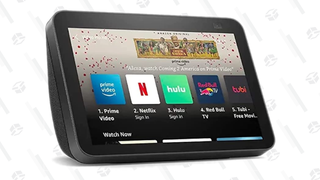 Thanks to the great Benjamin Hill, we have a spiffy, first-person account of Awful Night with the Altoona Curve (Class-AA Eastern League), which included, among other things, an appearance by Captain Awful, pictured here. I don't want to know why his fingers are yellow. Amazingly, the karaoke version of Paul Simon's You Can Call Me Al was not the most awful thing that evening. An excerpt from Hill's article:
Upon the conclusion of the fifth inning, solitary fans are highlighted on the "Alone Cam" (a twist on the standard "Kiss Cam," which features smooching couples). None of these individuals seem to mind being singled out for ridicule, serving as a powerful repudiation of the notion that one needs to be in a relationship in order to be happy.
The full report is here. Thanks, Benjamin!
Upcoming promotions:
• World's Largest Office Party. Saturday, Aug. 11. West Virginia Power (Class-A South Atlantic League). Robert R. Shafer, whom you may know as Bob Vance from NBC's The Office, will preside over an Office Olympics for your enjoyment. Plus, it's Naturalization Night at Appalachian Power Park. Very nice! High five!
• Jackie Robinson Night. Sunday, Aug. 12. Brooklyn Cyclones (Class-A New York-Penn League). An appearance by Jackie's widow, Rachel Robinson, is part of African-American Heritage Night; plus, Ebbets Field models to the first 2,000 adults who show up, and it's Soccer Night!
• Elvis Night. Thursday, Aug. 16. Tulsa Drillers (Class-AA Texas League). Help observe the 30th anniversary of Elvis' death with the Drillers; the highlight being an appearance by Little E, who is billed as the World's Shortest Elvis Impersonator. Evidently he's also licensed to perform weddings, as he will preside over the Drillers' attempt to set the record for the World's Largest Wedding prior to the game. You missed Bill Murray Night, don't miss this.
• Grand Valley State Vs. Wayne State Football Game. Saturday, Sept. 29. West Michigan Whitecaps (Class-A Midwest League). Fifth Third Ballpark, home of the Whitecaps, will be converted to a football venue as the Grand Valley State Lakers will take on the Wayne State Warriors in The Fall Classic presented by Centennial Wireless. Said Grand Valley State Director of Athletics Tim Selgo: "We are excited to bring Laker Football to Grand Rapids and Fifth Third Ballpark in a 'Throwback' game like when the Detroit Lions played at Tiger Stadium and the Cleveland Browns played at Municipal Stadium." Yes, this is exactly like that! The Lakers, by the way, are the two-time NCAA Div. II national champions, and have a 28-game winning streak; the longest in college football in any division.
We need your minor league tips! Send any game reports, photos, promo information or Tiny Elvis sightings to RickChand@GMail.com. Thank you very much!