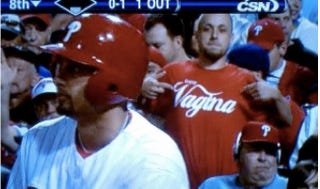 Because no one reads the newspaper, and SportsCenter's anchors are too perky for this early in the morning, Deadspin combs the best of the broadsheets and the blogosphere to bring you everything you need to know to start your day.
• Jamie Moyer is 47-years-old. He should not be pitching shutouts. But because he's on the Phillies, and they are an unstoppable rhino charging through National League barriers lined with wicker patio furniture, Moyer becomes the oldest MLB player in history to pitch a shutout. "This kind of stuff pushes me," he said. "This is what it's about." He's not talking about vagina.
•LBJ's elbow will not be taking anymore questions. Oh, but it should.
• The once mighty Boston Red Sox are extremely frustrated thus far and have resorted to pegging Derek Jeter to save their woeful season.
• Emboldened by political activism and a high shooting percentage, Los Suns continue to march through the NBA playoffs, taking a 3-0 lead over the San Antonio Spurs.
• Hockey.
****
Good morning. This Saturday is going to just be goddamn delightful. I can feel it.