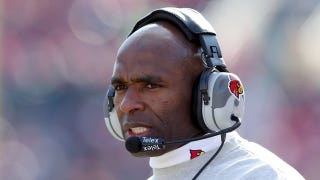 On Dec. 21, former Louisville football player Patrick Grant filed a lawsuit against the university and head football coach Charlie Strong. In the lawsuit, Grant claims that he was asked to cover up the circumstances of an assault that he suffered at the hands of two teammates. On Oct. 24, 2010, Grant was allegedly beaten by teammates Isaac and Jacob Geffrad in the football team's locker room. Grant sustained serious injuries, including a blowout fracture and head trauma. Grant claims that the team's trainer instructed him to lie about how his injuries were sustained while the two were on the way to the hospital. From wdrb.com:
"On the way to the hospital, the team's trainer told Patrick to lie and cover up the fact that his injuries were at the hands of his teammates," the lawsuit indicates. "Out of fear and desire to play, Patrick lied as instructed, telling the doctor that he was horsing around in the locker room and hit his eye on a locker door."
Isaac and Jacob Geffrad were eventually charged with assault on Jan. 28, 2011 and kicked off the football team.
Grant also claims that he was unable to continue playing football due to his injuries, but was allowed to keep his athletic scholarship for 2011-2012, that is until it was revoked by coach Strong this January without explanation:
But according to the lawsuit, that scholarship was canceled on Jan. 4, 2012. When Grant protested that the cancellation broke an agreement, Coach Charlie Strong, "simply ended the call and hung up the phone," according to the lawsuit.
The lawsuit claims that it was a violation of NCAA bylaws for Strong to revoke the scholarship. Grant is seeking to have his scholarship reinstated and damages awarded.
[wdrb]