In 1996, the U.S. women's gymnastics team, dubbed the Magnificent Seven, won the gold medal in the team competition for the first time in Olympic history. After that competition, most of the team retired or at least took some time off from the sport, and the media went looking for the next big thing. They found a 15-year-old from southern California named Vanessa Atler.

Ohtani has the WBC, but will Mike Trout ever lead the Angels to a championship? | Agree to Disagree
Atler, known for her powerful tumbling on floor and vault, entered the senior ranks in 1997 as the defending junior national champion and immediately leaped to the top of senior rankings. Despite tying for the national title with Kristy Powell, Atler was unable to compete at the world championships because the age minimum in gymnastics had just been moved from 15 to 16. (She had missed out on trying for a spot on the 1996 team because she was 6 weeks shy of the age minimum that year, which was then 15.)
At the peak of her powers, Atler was something like the Simone Biles of her era. She didn't enjoy the kind of competitive dominance that Biles did, because no one had that kind of success until Biles came along. But Atler was similar to Biles when it came to her athletic power and the prodigiousness of her talent—she performed skills and combinations that were years ahead of her time, such as this vault—and was also known for being charismatic and relatable on the mat and off. She was also one of gymnastics' digital pioneers. Before social media made every athlete seemingly accessible to fans, Atler was keeping fans abreast of her life and training in her online diary back in 1997.
Back in 1998, when Atler was a double gold medalist at the Goodwill Games, no one could envision the 2000 Olympic team without her. (The commentator in the Goodwill Games clip above twice calls her the Americans' "leading prospect for Sydney.") But at the 2000 Olympic trials, after dealing with injuries, gym changes, problems on the uneven bars, and the harsh new training camp regimem created by USA Gymnastics, Atler was left off the team for Sydney despite finishing in sixth place at trials. (At that time, Olympic teams had six positions on their rosters.)
Sixteen years later, Atler, now a coach in California, is speaking candidly. Last week she talked to the gymnastics podcast GymCastic about her experiences during her elite career—from eating disorders, to the Karolyis, to the current abuse scandal plaguing USA Gymnastics. (Disclosure: I am friends with Jessica O'Beirne, the host of GymCastic, and have appeared on the podcast several times as a guest.)
G/O Media may get a commission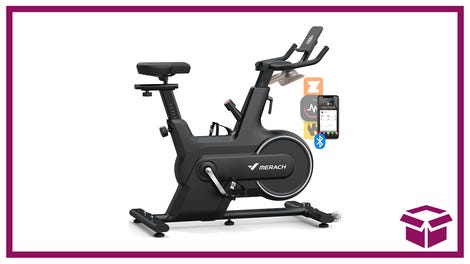 14% off + Coupon
Merach Indoor Cycling Bike
Larry Nassar
During Nassar's 2013 interview with GymCastic, the former team doctor mentioned but did not name a gymnast who was considering leaving her gym to train with Bela Karolyi in 1999. According to Nassar, this gymnast had consulted him about the decision and he had counseled her against leaving, saying that she would undoubtedly end up working much harder with the Karolyis than she would at her home gym. He said he pointed out that Karolyi, in his new role as national team coordinator, could not train his own athletes. He said he advised her to work it out with her coaches. Nassar then went on to claim that this gymnast had sent a letter to USA Gymnastics claiming that the doctor had accused the Karolyis of "abuse," and that this was the reason he was not allowed to attend the early training camps in 2000.
Atler said Nassar's 2013 interview was her main motivation for reaching out to GymCastic. As many fans noted at the time, the unnamed gymnast in question was obviously her. All of the contextual information—a gymnast leaving her longtime coaches in 1999 to train with Bela Karolyi—clearly described Atler.
Atler told GymCastic host Jessica O'Beirne that she told her mother at or around the 1999 national championships that she wanted to quit gymnastics. She had been struggling with injury, anxiety, and kept faltering on the uneven bars during competition, which had become its own NBC narrative.
"My mom was kind of like, 'Well what about Bela Karolyi?'" Atler remembers. "'Your agent was talking about it and he said he would come out of retirement' and my instant reaction was, 'No way. I would never ever go with him. I heard all of these horrible stories. If I can't handle Beth and Steve [Rybacki], I'm not going to be able handle Bela.'"
This is where Nassar comes in. While cautioning that she didn't remember everything, Atler said, "I do think I had a phone call, like a conversation with him. I would never, ever, me personally, just go, 'I need to call Larry Nassar and ask him his opinion on me going to Bela Karolyi.'" She posits that perhaps Nassar called her, maybe at the behest of someone at USA Gymnastics. "I think I do remember him saying, 'You know Vanessa, Bela is hard' and all of that stuff, and me agreeing with him."
But, Atler said, she never wrote the letter to USA Gymnastics that Nassar claimed in that 2013 interview had gotten him banned from the early training camps.
"I would never, ever write a letter to all of these top people and say that he said this stuff," she said. "I'm not that type of person. I would be too scared to ruffle any feathers and be in trouble. The only thing I could think of was that my mom and my agent thought it would be a wise idea to write this letter, and thought that maybe because I was on top that they would be scared or something and they would make a different decision and have Bela coach me."
Atler's muddled recollection of this period and all of the machinations of those—her agent, her parents, the administration of USA Gymnastics —who acted on her behalf but often without consulting her underscores how little control she had over her situation. This sort of powerlessness, especially in the face of institutional pressure, is a sentiment that has been echoed by other gymnasts from this time period.
"I don't know where that letter came from...In some ways, it's almost like I want to apologize to Larry for that single moment because I would've never done [that]," she said, laughing at the notion that anyone would apologize to Nassar for anything after he has been accused of sexually abusing so many women and girls. (Nassar has denied any wrongdoing and has pled not guilty to all of the charges.)
Within a week of the news of the lawsuit and allegations against Nassar, Atler publicly stated her support on her Facebook page for the accusers coming forward. (Atler had spent most of her career training alongside 2000 Olympic bronze medalist Jamie Dantzscher, one of the first women to come forward, though at the time of the Facebook statement Dantzscher had not yet been publicly identified.) Atler said that though Nassar hadn't abused her when he treated her as a gymnast, she believed the women who were claiming that they had been sexually abused. "I will be choosing to support these women. I have a connection with USAG through my book, which makes things a little awkward, but I feel these women need support!" she wrote. (Atler wrote and published a children's book, Let the River Flow, with help from USA Gymnastics.)
Atler posted this statement on September 17, 2016, before the number of alleged victims surged to Bill Cosby territory and before the FBI arrested and indicted Nassar on charges of child pornography, when some in the gymnastics community were still publicly defending Nassar on social media.
She said that precisely because she had had a positive experience with Nassar, she felt that she needed to come forward and support the women speaking up:
"He was this nice guy, always would come in and kind of be like our buddy, if someone was having a hard time, he would try to make us laugh," she said. "I know that means nothing. It doesn't mean anything if they're nice to you. I think it was just upsetting to me to see people say, 'Hey, he did not do this to me therefore he did not do anything.' I think knowing too, what I went through as far as adults not having the best interests, a lot of times feeling like you're not being heard, I felt for them speaking out and saying these things and hearing people come back at them and say that they're doing it for money or whatever. I just felt horrible because it brings me back to when I felt like I was speaking and nobody was hearing me."
Weight and eating disorders
At Karolyi's suggestion, Atler ended up moving to Texas to train with Valeri Liukin, a former Soviet Olympic champion, who was just getting into the elite coaching scene in the U.S. (Liukin, father and coach to 2008 Olympic all-around champion Nastia Liukin, took over as national team coordinator after Martha Karolyi retired in 2016.)
As was well documented by Joan Ryan in her 1995 book Little Girls in Pretty Boxes, women's gymnastics has a problem when it comes to eating disorders. Atler spoke about her own experience with disorders, which didn't emerge until relatively late in her elite career—around the time she switched gyms, moving from Charter Oak Gliders in California (and coaches Steve and Beth Rybacki) to WOGA in Plano, Texas. Shortly before she moved, Atler had surgery on her injured ankle, which limited her training and exercise, leading to a weight gain of about five pounds. Atler said that Valeri Liukin "freaked out" and wasn't equipped to deal with it properly.
"If nobody said anything and I just started working out, it would've came off," Atler said. "It was this thing of, like, 'We gotta get this weight off of you.' I've never been on a diet before. I didn't know what that was about and me, not knowing anything, it was don't eat and then I'd get hungry. I'm such an emotional eater and if I'm stressed about something, I'll just eat, eat, eat. It was the first time where if I wasn't losing weight, I'd go and eat more food because I was stressed about it. It was just a horrible thing.
"I started throwing up for a little bit just because he weighed us three times a day, which is insane…We had this paper in his office where they have a scale, you'd weigh in the morning and you'd write down your weight and then after workout, you'd write down your weight and at nighttime, for the last workout, you'd write down your weight, which is so stupid because it just doesn't mean anything."
Atler remembered being told not to drink water because it makes you look bloated, and being taken to a gym to run on a treadmill while wearing trash bags. She said that even though she was just a teen she realized that this was not sound.
One of the themes that runs through Atler's interview is that of adults not always having the best interests of their charges at heart. She's very forgiving of a lot of people, including Liukin, who she refers to as a good person more than once, noting that she believes the gym helped pay for the apartment she and her mother lived in while they stayed in Texas. She believes that he was in way over his head in taking on someone like her less than a year before the Games. (WOGA, though it would eventually surge to prominence at the elite level, hadn't yet had a major international elite star like Atler.) She also speaks pretty positively of the Rybackis—the coaches she left behind in California—frequently saying that she wished she had done a better job of communicating with them so they could've worked through their issues instead of leaving their gym.
She is less forgiving of those in the office of USA Gymnastics and in other positions. "One of the things that we knew as gymnasts when we were with those adults, they weren't always doing the right thing. I think that whole team felt like that too. We weren't being treated nicely," she said.
Atler recalled being in her room at the 1999 world championships with fellow team member Elise Ray.
"The walls were so thin, we could hear, they were having a coaches' meeting," she said. "Kathy Kelly [the former director of the women's program] was in there. They were having a coaches' meeting and we heard them say that 'this is the fattest team we've ever had.' We heard Kathy Kelly say that.
"We were just, like, putting our hands over our mouths—Oh my god!—we were kind of laughing, like, This is ridiculous and then they come around and knock on our door and Kathy Kelly goes, 'Is everyone ready to go shopping?' We were just looking at each other, like, 'Oh my God, what an evil person.' That's what we were dealing with...That's when you just lose trust for adults and go, 'They don't care about us at all.'"
When I interviewed Dantzscher in 2015 for my book, she spoke about this incident too, though she didn't mention Kelly by name. "They didn't know we could hear them, and they were saying that we were rebellious, and that we were fat, and all this stuff," she told me. "I don't know if they were having some beverages in there, or what, but they were going off on us, you know? And we're, like, 17."
Atler also discussed an incident at the 2000 Olympic Trials when she attempted to communicate to USA Gymnastics officials that she was struggling with binging and purging behavior. She said she entered a hotel room with judges and others, hoping to unburden herself and get some help.
"I walked in there and sat down on the bed and they said, 'What's wrong Vanessa?' I started crying and saying, 'I don't know what to do, I'm eating a lot and I just feel out of shape and throwing up and stuff.'
"They all looked at each other and Muriel [Grossfeld] turned to me and said, 'Vanessa, have you seen [bleeped name] lately?' She was a gymnast that was competing at Trials and I said, 'Yeah.' She goes, 'Well what do you see?' And I said she looks like she lost a lot of weight. She got in really good shape for trials. I remember that happening, it was something that everyone noticed, she got in really good shape. And she goes, 'Do you see how she kind of did everything that she could to get in shape?' I said yeah. She goes 'Well sometimes you do what you have to do. I'm not saying that you should do anything unhealthy but you have to do what is going to help you get your dreams or whatever.'
"I got up and just walked out of the hotel room, just going, That totally didn't go the way I thought it was going to go. I thought they were going to help me. Basically their answer was stop eating."
The Olympic Trials
At the 2000 Olympic Trials, Atler, once a shoo-in to make the team, had one of the worst competitions of her life. She made mistakes in almost every performance, including this very scary fall on beam.
Despite all of the errors, Atler finished the competition in sixth place, a testament to how talented she was. If they weren't employing a secretive selection procedure, this result would've locked up the final spot on the Olympic team. After the selection committee deliberated for several minutes and came out with a list of names, though, Atler's wasn't on it.
Atler said that her troubles at trials started before the competition began. She told GymCastic that she couldn't get through her floor routine during the workouts due to her binging. "Bela was there watching me," Atler said, "and he pulls me aside, under the tunnel basically, and says, 'Don't worry, everything is going to be okay. That's why I am on the selection committee. In case something happens, I can put you on.' That's what he said to me."
But after the first day of competition, where Atler had a couple of weak performances including a fall, she said that Sheryl Shade, her agent at the time, called her mother and said that Bela had called her and said the rest of the selection committee didn't want her on.
Tracee Talavera, a 1980 and 1984 Olympian, was one of the other members of the 2000 selection committee. When we spoke a few months ago, she discussed what happened to Atler in 2000.
"I can tell you, firsthand knowledge, I watched them through that selection committee, get rid of her from the team." Talavera told me. "After every workout and every session of competition, it was, 'She can't be on the team. Her attitude, no. She's fat, forget it.' But then five minutes earlier, be like, 'Oh Vanessa, you're fine.'
"It was just sickening to watch."
Atler went into the second day of competition at Olympic trials, she says, believing that she probably wasn't going to make the team, based on what her agent had relayed. Her floor routine was actually quite good, though she had trouble with her last pass. And her tumbling difficulty far surpassed Dominique Dawes, arguably the gymnast that was named to the team in Atler's stead. (Dawes finished one spot below Atler in seventh.)
Atler, once the top U.S. prospect for Sydney, did not make the team. Talavera said she disagreed with the decision. Despite Atler's issues at trials and her long-term issues on the uneven bars, she probably had a medal shot on her two best events, vault and floor.
Atler said that in recent years, Talavera reached out to her to try to explain what happened with the selection committee in 2000. "There was all this stuff she felt that I should know," Atler said. "She had kind of said she was sticking up for me, saying, 'No, she should be on.'"
But Atler wasn't sure it was vital for her to rehash 2000 with Talavera. "I'm fine where I am right now and it'll just get me more upset from before. I've forgiven people and I kind of have moved on and I have my life now and I don't want to stir that up again."