Erick Lueshen was a kicker on the University of Nebraska football team from 2004-2005, and according to an interview he did on 93.7 The Ticket, he was openly gay the entire time he was on the team. His interview was illuminating, and it sounds like his experience as an openly gay college athlete was very similar to Michael Sam's.
Jokic? Embiid? The NBA MVP is obvious... right? | Keep it a Buck(et)
You can listen to the entirety of Lueshen's two-part interview here and here, but we've pulled some of the highlights.
On how he came out to his team:
Two of my really good friends on the team, Sean Hill and Corey McKeon, asked me at lunch one day, "We were just wondering if you were gay." I very honestly said, "Yes, is that a problem?" They were like, "Oh no, that's really cool. We all thought that you were, and we just wanted to know."
G/O Media may get a commission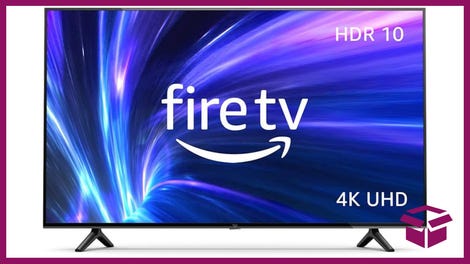 42% Off
Amazon Fire TV 50" 4K Smart TV
On how his experience on the team changed after coming out:
My experience went from being a very scared and somewhat shy gay person on the team to a very welcomed and loved teammate of many.
On a few of his assistant coaches making him feel unwelcome:
Once everyone found out, several coaches made it very clear to me that I wasn't welcome. I would say the majority of how they made it known that I was unwelcome was through non-verbal communication—body language, looks—but there was definitely some verbal things at times.
On how head coach Bill Callahan treated him:
I would say he was accepting of me. I know in the conversations I've had with him, how much he respected me as a person.
Lueshen never saw much time on the field—he redshirted in 2004 and what would eventually become a career-ending injury robbed him of most of the 2005 season—but he said his time at Nebraska was a positive experience overall.
What we can learn from Lueshen's story is the same thing we learned from Michael Sam's story and Chris Kluwe's story: It's people nearer the periphery of the game as it's actually played—scouts, front-office people, assistant coaches—that seem to have problems dealing with openly gay football players. The people who really matter tend to be much more welcoming of gay athletes. Lueshen felt comfortable enough with his teammates that he took his boyfriend to the student-athlete formal during his freshman year. That's pretty damn cool.