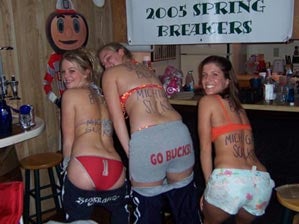 We've made a lot of jokes about Ohio State here — most of them have been made for us — but we've never considered their fans rampaging monsters bent on destruction. Of course, we've never been president of the university.
In a job interview for the presidency of something called Florida Gulf Coast University, Karen Holbrook, who was president of OSU from 2002 until June of this year, made it clear that it was impossible to control those Buckeye hooligans.
"I went to Ohio State and had no idea there was a culture of rioting," Holbrook told the trustees. "Any good excuse gets some of the people on the street and they think it's fun to flip cars and have absolute drunken orgies."
When we think back to all the drunken orgies we've had in our lives, we are reminded that the truly revelatory ones, the ones we'll never forget, always had a good round of car-flipping as foreplay. Really warms the cockles.
Seriously, though: Drunken orgies? Very diplomatic, Ms. Holbrook.
Former OSU President Calls Out Buckeyes Fans [The M Zone]