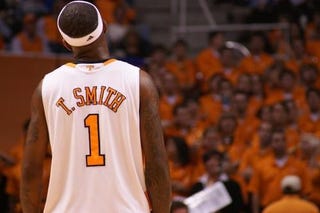 Gilbert Arenas isn't the only athlete having gun troubles these days. Four members of the Tennessee Volunteers men's basketball team have been charged with weapon and drug-related offenses stemming from a traffic stop near their campus yesterday.
The players - starting senior forward Tyler Smith, junior Melvin Goins, junior Brian Williams and sophomore Cameron Tatum - were arrested on Friday after police officers discovered a hand gun with an altered serial number, a bag of marijuana and open liquor containers in their car. And to think, they were just a mere prostitute away from the quadfecta.
Coach Bruce Pearl has indefinitely suspended all four players. Tennessee is currently the fourteenth-ranked team in college ball...for now.
Tennessee suspends four basketball players for gun charges [Covers]