Earlier today, Sports Illustrated and Fox Sports announced a "multiyear advertising and editorial agreement," as per the Wall Street Journal, an arrangement that can only be read as two listing giants seeking to prop each other up.
The WSJ has as many specifics as exist currently, but the basics are easy:
FoxSports.com and SI.com combined are the second largest sports-media website, behind only ESPN, giving the respective ad sales teams much bigger scale to sell against.
Fox Sports gets the imprimatur and cachet of the still highly respected Sports Illustrated brand.
Sports Illustrated bulks up its "newsroom" and gets access to video from Fox Sports, who have live rights to basically every sport except the NBA and NHL.
What is left unsaid is that this smells very much like a desperation ploy for the two media companies.
Time Inc. was spun off from Time Warner two years ago, excising the breaking-even or money-losing print properties—Time, Sports Illustrated, Food & Wine, Entertainment Weekly, and dozens of others—from the highly profitable television properties like HBO, CNN, and TNT. Time Inc. was saddled with $1.4 billion in debt from the outset, its stock has dropped almost 40 percent since the spin-off, and the company has announced multiple rounds of executive musical chairs and layoffs. This has happened generally at Time Inc., and specifically at Sports Illustrated, which saw Chris Stone ascend to editorial director earlier this summer and laid off four writers and another 10 or so non-full-timers this week.
G/O Media may get a commission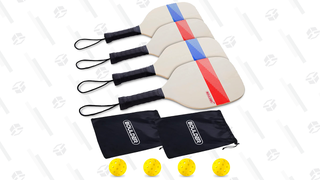 It's Pickleball
Pickleball Sets
Fox Sports—sitting within the wildly profitable 21st Century Fox's wildly profitable cable-TV division—isn't facing such dire circumstances. But three years since its rebrand and major investment, it is still scuffling to compete with ESPN, pivoting from out-funning ESPN to out-shouting them, all without making much of a dent in the ratings. 21st Century Fox recently underwent a round of buyouts that hit the sports division particularly hard, essentially gutting their news division. While Fox Sports does have some news-breaking reporters—Ken Rosenthal, Jay Glazer—they basically told the WSJ that they want to outsource this function to Sports Illustrated:
"As we've scaled back because we don't believe in highlights and news as TV programming, that's also created a little bit of a hole on the digital side," said Pete Vlastelica, executive vice president of digital for Fox Sports.

Adding Sports Illustrated articles written by "journalists with a capital J" will help address that shortfall, Mr. Vlastelica said. "Fox Sports' digital editorial strategy has been driven by shareable social news and short-form social video. We're not newsbreakers necessarily."
Fox Sports is also consenting to assign their web traffic to Time Inc., further evidence that the website is not a priority.
A partnership like this isn't unique. Sports Illustrated first tried this with CNN two decades ago—remember CNNSI?—and Yahoo and NBC Sports renewed their four-year-old partnership late last year. But while NBC mostly wants access to Yahoo Fantasy and Yahoo wants access to NBC's video and the Olympics, at first blush the Sports Illustrated and Fox Sports partnership seems much deeper, something closer to a merger.

Things are still very unsettled—neither Fox Sports nor Time Inc. were ready to comment on the deal or offer more specifics about how ads would be sold, what video and how much Sports Illustrated would have access to, and why web traffic was assigned to Time Inc., for instance—but for now it's probably fair to think of this being exactly what it looks like: two swimmers grabbing for each other as the tide pulls them under.