The Vikings legendary quarterback must have had some pepper in his eyes during this interview with Atlanta radio station 790 The Zone or he was just feeling particularly ornery. Especially when it comes to the possibility of the Ol' Gunslinger donning the purple this year.
Wanna know how to make Fran Tarkenton combust? Just add Favre:
•

"I think it's despicable. What he put the Packers through last year was not good. Here's an organization that was loyal to him for 17, 18 years, provided stability of organization, provided players. It just wasn't about Brett Favre. In this day and time, we have glorified the Brett Favre's of the world so much, they think it's about them. He goes to New York and bombs. He's 39 years old. How would you like Ray Nitschke in his last year (playing for) the Vikings, or I retire, and go play for the Packers. I kind of hope it happens, so he can fail."
•

"They did everything, but you get into a position, and I understand he's been glorified so much. He's been a great player, there's no question about it, but it's all about him. It is supposed to be all about your team. If you're going to be the quarterback of your team, you need to be there in the off season workouts in March and April. Peyton Manning's there. Tom Brady's there."
G/O Media may get a commission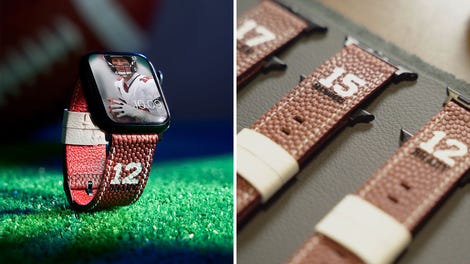 Official NFL PRODUCTS
Official NFL Apple Watch Bands
•

I think he has been a great flamboyant quarterback, but he has made more stupid plays than any great quarterback that I've ever seen. Look at his final game in a Packers uniform. He blew that game against the Giants. He's playing against Eli Manning, I love Eli Manning, but he's still not a great quarterback. He's not Peyton yet, or Tom Brady. He's just a guy. And they're (Packers) are playing at home, and they're in a tight situation, they went to overtime and he (Favre) throws the interception that allows them (the Giants) to come back and win the game. He has done that and driven his coaches crazy all of his career."
Aw. Poor Eli.
That's Incredible! A Former Player Isn't A Fan Of Favre [SRI]