Franco Harris read "most of" the Freeh Report (the stuff about the massive, program and university-wide cover up must have been in the last chapter) and has come to this conclusion: "there was no cover up." Even, for the sake of argument, assuming the existence of a cover up, Harris "feel[s] even more strongly about Joe and about his non-involvement in any type of cover-up."
Harris went on to describe Paterno as a victim in all of this, unwittingly summing up the knock against Paterno while defending him.
"All of the focus has been on Joe. People blame him more than anybody else and he played such a minor part in all of this," Harris said.
Harris saves his sharpest criticism for the board of trustees who he claims has made terrible decisions, almost all of which he says hurt Penn State. He thinks the decision to tear down the the Paterno statue should wait "until we finish with this."
G/O Media may get a commission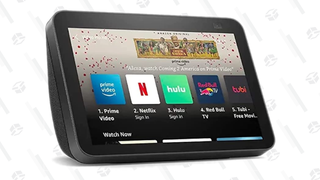 Besides, it's the weekend.
Image via Getty

Exclusive interview: Franco Harris defends Paterno, bashes PSU trustees [WPXI]