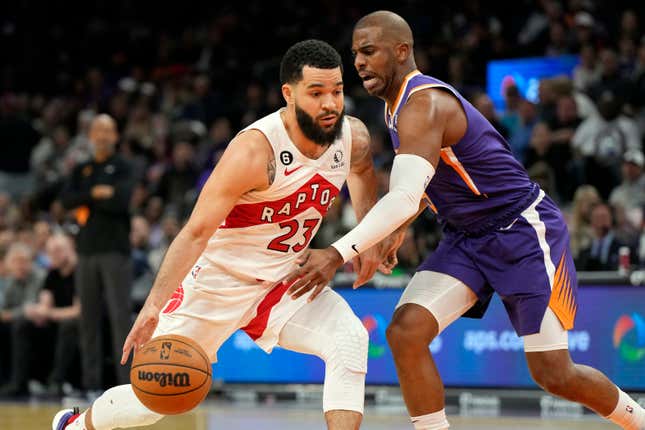 A precedent has been set. It is time for Chris Paul to take action. The Phoenix Suns are gearing up for a playoff run in the most wide-open Western Conference since Dennis Rodman and David Robinson were sharing the screen in stuffed-crust pizza commercials. With Kevin Durant likely to be available for the postseason, this season could be the best of Paul's few remaining chances at an NBA Championship. In order to fully take advantage of this opportunity, Paul should pay attention to a recent Fred VanVleet administrative victory.
If he goes this route, it will certainly cost Paul some money. An astronomical figure for the average American, but a drop in the bucket for one of State Farm Insurance's top salespersons. VanVleet was fined $30,000 for his expletive-laden diss track about NBA referee Ben Taylor, who has been responsible for three of his eight technical fouls during the 2022-23 NBA season.
Meadowlark Media's Tom Haberstroh has noticed an irregularity in Taylor's officiating assignments since that press conference. In the last two weeks, Taylor has spent very little time in his typical position as crew chief.
"In the last five games, Ben Taylor has only been the crew chief one," Haberstroh said on The JD Bunkis Podcast. "He's been the referee [No. 2] four times since that game, since that rant. Which is a real abnormality with Ben Taylor. If you look at his previous 52 games this season Ben Taylor was the crew chief in 41 of those games."

Maybe this was simply a quick knuckle slap with a ruler by the NBA. Something to try and quietly tighten up shortly before the beginning of the postseason, while forgetting the fact "quiet" and "NBA" do not go together. The league insiders, the data experts like Haberstroh, and players on social media, all of whom are always alert. There is no moving under the cover of darkness in the NBA.
Taylor is an NBA veteran. He is currently in his 10th season as an NBA referee and has only been working postseason games since 2019. Foster is currently in his 29th season as an NBA ref. The league considers Foster one of its very best. If it didn't, there is no way that he would have been working in enough postseason games for Paul to lose 14 of them in a row.
For Paul to properly pry open one of his final championship windows he had better tape a few extra insurance commercials, maybe even revive Cliff Paul again. One $30,000 series of F-bombs isn't going to do it. He needs to pen a piece for the Players' Tribune, make an appearance on The Shop, get fellow North Carolina native J. Cole to collaborate with him on an actual diss track.
Anything less than $1 million in fines and an early April suspension might not be enough. Foster has been officiating since before Paul began middle school, and will likely continue after the future Hall of Famer retires. When Foster steps down he will be right next to Joey Crawford as a legend among referees, and also in the NBA Fan Hall of Hate as one of the most dreaded faces to see with a whistle at a big game.
After last year's unexpected battle with the 10-games-under-.500 New Orleans Pelicans in the first round, Paul had to think that there was no way around Foster. Luck of the draw would be his only hope that if he ever gets back to the NBA Finals, Foster wouldn't again be crew chief when his team is facing elimination. Foster's nickname might be "The Extender," but he closed the finals in 2021.
It's time to get desperate Chris. Offer Durant any healing remedy you have ever been recommended that you believe works, and then get to screaming from everywhere you can go viral about Foster. Use all of the foul — while also non-bigoted — language that comes to your mind. Make VanVleet's tirade look like a campfire song by comparison.
If it can even get Foster away from you in the postseason for one game in which he would normally be assigned, your fine will be worth every penny.