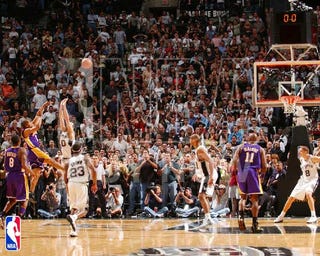 We're looking at every NBA Playoff series through the eyes of both Free Darko. Here's Free Darko's look at the Los Angeles Lakers-San Antonio Spurs series. Your author is Dr. Lawyer IndianChief.
At the peril of divulging my devotion to my bloglines reader, I have to say I am particularly fond of the running joke that Gawker has on Slate (both of which are favorite websites of mine). The joke is basically pointing out how much Slate just looooooves to flip conventional wisdom on its head. In a jab at Slate's recent assertion that we Americans should feel lucky for only paying four dollars a gallon for gas, Gawker snarks:
Gas... is cheap! An economist on how expensive cigarettes make smokers happy! Ugly people: are they actually pretty? Plus: Chris Hitchens on how George W. Bush was a better president than Lincoln! Tomorrow: Are you hungry? No you're not!
Comedy. Now, at the risk of pulling over-flipping the script myself here, I want to proclaim that after heavy thought and scrutiny, I have realized that Tim Duncan is this millennium's answer to Michael Jordan, the actual heir to MJ's throne that we have been searching for all along, and the obvious successor that we have overlooked when he was standing in our midst all along. Put another way, it is fucking astonishing that the Spurs beat the Suns in five games and the Hornets in New Orleans, and this outcome is pretty much solely because of Timmy D. Parker, Ginobili, Popovich, and Horry be damned.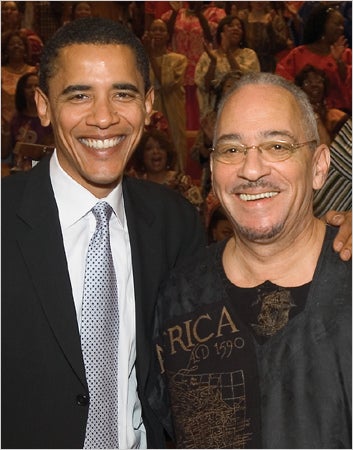 Sure, Parker makes quick and precise decisions, Ginobili is perturbing to the point of causing psychological damage, Horry evokes severe anxiety in late-and-close game situations, and Popovich conveys an eerie calm. Yet it is Duncan whose presence alone encapsulates all of these things, which makes him the single greatest player since Michael Jordan. I'm not gonna play up the MJ comparison too much (because we go into much greater detail about Mike and his legacy in the forthcoming FreeDarko book (IN STORES NOVEMBER 11), but I will characterize what the now ethereal and almost fanciful legend of Jordan stood for: Dominance, Championship, and most Relentlessness.
These are not simply vacant or clichéd terms. Dominance refers to the fact that Jordan was the best of his era. All things considered, Duncan can say the same for himself. You know how after Duncan and Shaq got a few MVP awards, they sort of just got dropped from frontrunner status in the years that followed? Garnett, Nash, Dirk, and then Kobe got in the mix, and it was almost as though the voters and the public were saying, "OK, let's just exclude Duncan and Shaq from the conversation because they're these incomprehensible gigantic physical specimens that don't even count," just how we will come to talk about Barry Bonds and the home run records. Get what I'm saying? And now, Duncan has outlasted Shaq, with as many rings (and perhaps more?) to show for himself. That is dominance.
A championship is essentially the outcome of dominance. It is as though the Rube Goldberg machine spits out a ring at the end of Duncan's churning. And although Duncan has never won two championships in a row, his record in the postseason is unmatched, and he has become a permanent fixture in postseason lore.
It is this last quality of relentlessness that I believe separates Duncan from his peers. To present a contrast — and I alluded to this over on FreeDarko — what I can't stand about the post-Iverson era is how many players seem to hold back on us, only to reemerge at a later point in time. Steve Nash flutters around as a one-dimensional all-star on the Mavericks, and a couple years later he turns into White Confucius. Baron Davis comes out of nowhere as a playoff savior for an all-but-forgotten franchise. Paul Pierce drops 40 points in a key game when we thought his career was over years ago. And Peja Stojakovic comes out of the woodwork to say, "Remember me?! I WILL BUST YOU."
I can only conclude that (putting on my Skip Bayless voice) in the endorsement/mega-contract age players simply hold out a bit on us more than they used to. Injuries, their team's draft positioning, fear of failure and necessity to secure that next big contract all take hold of these players, and at least for a moment, they let up. They say, "You know what? I'm gonna get my shit together for next year, or I'm gonna take this summer and really work on my free throws/footwork/outside shot/whatever. I'm gonna take some time to heal. I'm gonna just wrap this season up and see what happens once I complain that I don't have enough help around me." Duncan, on the other hand, has never once let up, never looked toward the future, toward his legacy, or toward anything except his duty. That is what relentless means. The guy has faced consistent injuries throughout his career, and not once has he taken a season off to facilitate some unknowable future.
Now what happens when the best player of his era meets the best player right now, and one that will potentially become the best of all-time? Nobody on the Spurs, a 56-year-old Bruce Bowen included, can guard Kobe right now. Yet a Kobe-versus-everybody matchup might be playing right into the Spurs' hands. I see a lot of anger coming from Kobe's direction. I see a lot of elbows flying on both sides. The lanky swords of Lamar Odom dueling with the flailing nunchucks of Manu Ginobili. A barrage of three-pointers from Ime Udoka, Michael Finley, Vladimir Radmanovic and Sasha Vujacic. I see the Lakers having an edge in pure speed ("speed" is the new "size"), but I also see Los Angeles trembling in tense moments, with a squad of players that-except for Kobe and Derek Fisher-have not been in deep playoff pressure situations before.
So, how does this end? In any toss-up situation or game 7, I use a simple rule of thumb, which is that the team that has more to lose…will win. Think of the squeaker series' during these playoffs. Boston's two Game 7s-they were faced with the possibility of disgracing the entire Celtics legacy, and they pulled it out. Think about the Lakers versus Utah-were they really going to squander their post-Gasol magic by letting a bunch of screaming Utah-ites into their heads? And then there was New Orleans versus San Antonio, when it came down to it, you could tell that the young core of West, Paul, and Chandler had the feeling of, "well, we can always get back here next year," whereas the Spurs were facing the ultimate demise of their decade-long dynasty. More to lose…equals a win.
And I say whereas the Lakers might look ahead to a full season of Bynum, Gasol, and Kobe on the same court for a full season, the Spurs aren't ready to loosen their grip of death on the league just yet. I'll give them one more championship, to cement their place in history and to ship millions of NBA fans back to their families in coffins, bearing the burden of having watched this game with so much patience over the past 10 years of San Antonio's reign.