We're looking at every NBA Playoff series through the eyes of both Free Darko and Basket Bawful. Here's Free Darko's look at the New Orleans Hornets-Dallas Mavericks series. Your author is Bethlehem Shoals.
The best sports movies according to Toheeb Jimoh
Get ready for one of those vaunted point guard battles, which is kind of like saying "prepare to see who grows lawns better," or "great moments in quarterback duels." It's true, Chris Paul and Jason Kidd will guard each other; given Paul's problems with the chunky Deron Williams, Kidd might be able to keep him from penetrating non-stop. But what's important here is that, on the whole, the struggle is largely parallel. Being a point guard involves a lot more than facing down the man in front of you.
In fact, this whole series is about two teams passing in the night. Neither one will be vindicated or shamed by the outcome, because it's the merest blip compared to the baggage they carry. The Mavs, in case you've forgotten, were unceremoniously ousted in last year's first round by those Satanic Warriors. They became a running joke, Dirk had everything down to his zip code questioned, and they started the year determined to move on. Then they swung a big trade for the aging Kidd, had to live without a full-speed Josh Howard, lost Nowitzki for a minute and then rallied to sneak into the postseason.
G/O Media may get a commission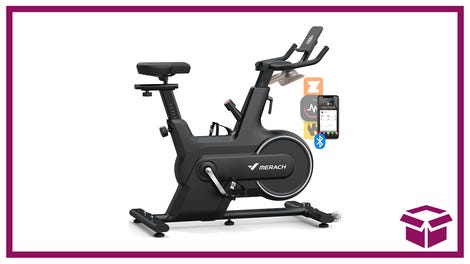 14% off + Coupon
Merach Indoor Cycling Bike
Cheap irony of the century: If the Warriors' win was fueled by BELIEVE, the Mavs are fighting an uphill battle against doubt. You've got to figure that a dominant regular season would've been even worse for them in this respect, since it would've set them up the punchline. But this team is fighting to prove itself, not in a "we are the underdog" way, but to battle past practical and psychological obstacles as they try to restore their shattered credibility. The Kidd trade just diverted the issue — it felt like an admission of failure, which is an important part of the healing process. And yet this current configuration hasn't exactly been all barrel-chested, and no amount of qualifiers can excuse the fact that, still, people don't believe in the Mavs.
The Hornets, on the other hand, have spent all season trying to convince the league that they're for real. Well first, they had to get people to acknowledge their existence. But after accomplishing that, the basketball public just kept waiting. What's more, while Paul's got that chip on his shoulder from the 2005 Draft, and M.I.A.'ers like Mo Peterson and Rasual Butler could easily embrace the "us against everyone mentality," this team lacks edge. They just kept winning, never acknowledging how unlikely their ascent had been, carrying themselves like NOLA Hornet, Toast of the West was a perfectly natural occurrence. And thus, people still expect things to snap back to their appropriate order, as they seemed to slightly when the Lakers passed them in the standings.
Chris Paul has claimed a position as his own in a way reminiscent of Nash, Shaq or Duncan. Kidd is an old master with nothing to prove but always ready to remind the world how much he matters. It's weird, Kidd goes back and forth between neglected and receiving an O'Neal-like slurp-job from the media. This is your point guard battle, guns drawn at high noon, but it really doesn't encapsulate what's going on in this series.
Paul will sparkle. Kidd will have three triple-doubles. Yet neither of these two men can provide an answer to their searching teams. This is about David West getting someone to recognize him on the street. Peja making it known that his three-point shooting is more potent than ever. Dirk and Josh Howard playing like a one-two punch that deserves a title shot. The Mavs asserting their commitment to defense, the Hornets lifting the veil that has thus far clouded their objectively lovely track record. Hell, this isn't even about these two teams playing each other; it's not a match-up, per se, it's two mirror images in desperate need of very much the same affirmation. Winning will start the process, but in a way, it doesn't matter who advances.
Next round, these questions will be only slightly less settled for whichever of these teams passes through the gauntlet. And that's a shame, since this will be one hell of a series. Reports of Dallas's demise have been greatly exaggerated, and the void around NOLA is almost as weird as the team's unexpected ascent. Maybe, at some point, we'll realized that these two teams are essentially playing themselves — in more ways than one. Both are wrestling with issues of identity that may linger until they're eliminated, and yeah, these two teams do have their similarities.
Let's just hope they don't look each other in the eye, or else they might all catch on fire and bring about the end of the world.