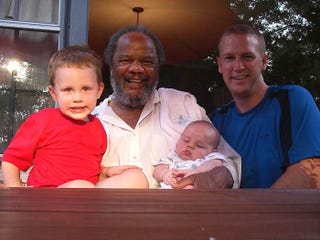 Until last season, Frank Clarke held the Cowboys' single-season receiving touchdown record. After being the team's first black star, he went onto become the first black sports TV anchor in the Dallas area and the first black NFL analyst on CBS. There were rumblings that he would run for political office. Instead, as the Dallas Morning News reports, Clarke has been working as a full-time nanny for the past 27 years. And the road there was an oddly new-agey one.
Mr. Clarke said he underwent the life-changing moment that allowed him to discard the shackles of his past a year later. On his 40th birthday, unfulfilled by his lot in life, he received the gift that became his road map to true happiness.

The Handbook to Higher Consciousness was a pop-culture best-seller written by paraplegic self-help guru Ken Keyes. In those 215 pages, Mr. Clarke discovered how to live with no facades or inhibitions.

The book eventually led Mr. Clarke, who divorced in 1976, to Mr. Keyes' Living Love Center, a converted fraternity house on the fringe of the University of California at Berkeley. Living Love irritated its neighbors before it outgrew the frat house in 1977 and was moved to a former convent in rural Kentucky. Mr. Clarke, a regular visitor at Living Love, followed the next year.

Even in a liberal community, the center caused concern. A beat-up old bus always parked out front was considered an eyesore. Inside, rituals included members standing nude in front of the assembly and describing their own bodies.
Hey, great. Find your bliss where you can and other happy-clappy stuff. I'm sure the Rice Krispies squares are great. I'm sort of intrigued about the transformative powers of this book though. I mean, when was the last time a book got me to change my life. Probably not since Bunnicula. Yep, that gave me all the information I needed to avoid those damn vampire bunnies. Maybe I'll read another book someday.