Let's return to the Bill Simmons Archive, a collection of Boston Sports Guy columns salvaged from the defunct AOL Digital Cities. In honor of Red Sox opening day, let's look at an old column calling for the demolition of Fenway Park—and the construction of something totally new and different in its place.
"Good Riddance to Fenway" was originally published May 17, 1999, and opened with the confession that Simmons "stopped enjoying the Fenway Park experience in 1984, the same summer I grew seven inches."
Let's be honest: If you're over 5-foot-3 and you weigh more than 120 pounds, there's no possible way to sit in the seats at Fenway Park and be comfortable. The park was built in 1912; everybody was short in 1912. And that's fine. Unfortunately for me and everyone else who isn't built like John Harrington, Bob Costas or Sarah Michelle Gellar, it's a chore to sit through nine innings of baseball at Fenway.
Simmons lists other reasons Fenway is terrible, half of them being "the curse"—remember, it's 1999—and observes that "it's pretty sad when a Red Sox fan has more fun attending baseball games at Yankee Stadium than he does at Fenway Park."
Bill's been to those fancy new ballparks, and he likes what he sees:
There's a thin line between tradition and sadomasochism. Anyone who ever had the privilege of attending a baseball game at Camden Yards will tell you how superior the experience is for paying baseball customers, whether you're discussing the food/drink options, the immaculate condition of the park, confortable seats that actually point towards home plate, and best of all, available good seats.
G/O Media may get a commission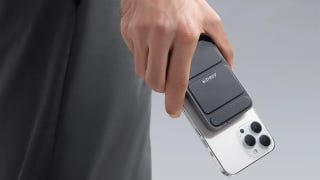 15% off
15% off Anker Top Ten Products
Take charge
Treat yourself to a portable power bank, a magnetic wireless battery for iPhones, or even a solar generator. There is a reason these are in the top ten. For instance, the Anker 747 Power Bank is a 4-in-1 charger utilizing USB-A and USB-C to be capable of charging up to four devices at once. Great to take with you when traveling and in need of keeping your phone, laptop, and even Nintendo Switch powered on.
It was around this time that Boston ownership had announced plans to build a new park across Yawkey Way. It was a negotiating tactic, as the team eventually settled for minor renovations, and a huge revenue-producer in seats atop the Green Monster. But for a while it really looked like the Red Sox would have a brand new ballpark, with some old familiar aspects.
Since the Sox promised to keep many of the "crucial" characteristics of the old ballpark alive in the new one (the Wall, the Triangle, Pesky's Pole, Williams' red seat, and so on), the announcement didn't have the "OH MY GOD! THEY'RE TEARING DOWN FENWAY!!!!!" element that seemed inevitable on sports radio shows and newspaper feedback sections. Fans actually seem okay with this — I didn't receive more than ten e-mails about it all weekend. Even influential sports columnists like Peter Gammons and Dan Shaughnessy came out in favor of the new plan, especially because the team promised to keep the name "Fenway Park" alive with the new stadium.
Bill hates this idea. He doesn't want Fenway Part II. He wants a clean break with the past. Why? The various curses, again.
For me, that's the key to the whole thing. The worst part about rooting for the Red Sox is how we're forced to endure the tradition/curse nonsense — Babe Ruth, Bill Buckner, Bucky Dent, Jim Burton, Enos Slaughter, Gene Bearden, Clemens/Fisk/Lynn/Mo, Jackie Robinson's tryout, etc. — that makes rooting for this franchise such a suffocating, unbearable chore. Do you realize that other sports fans feel sorry for us? It's not even enjoyable for them to make fun of us anymore because we've become that pathetic.

Fenway isn't the problem, but it IS a symptom. Since they built the Wall in 1930, the Red Sox have appeared in four World Series and lost them all. Seven full decades have passed, all of them filled with heartbreak, all of them filled with painful memories. Red Sox fans practically relish our team's legacy of failure — we accept it, we deal with it, and we almost seem to enjoy perpetuating it. I mean, isn't it time we move on and break away from this stuff once and for all?

[...]

Unfortunately, the Red Sox franchise can't move forward because their fans won't let them. We'll allow them to build a new stadium... but only if it looks like the old one. We'll still call the new stadium "Fenway Park"... even if the original Fenway Park is still standing right next to it. And hopefully when the new ballpark gets built, our baseball team will keep losing and failing and breaking our hearts... because we just couldn't handle it if the Red Sox made us feel like winners for once.
It's 2012, and the Red Sox have won two World Series titles since then, and next week Fenway celebrates its 100th anniversary.