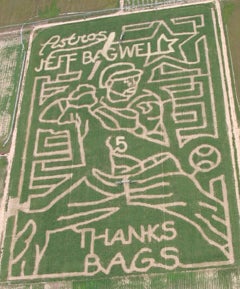 If it's October or November, in part of the country that isn't infested with commie pinko postgraduate hippie folk — that is to say, the middle part — the season means one thing: Corn mazes!
Last year at his time, we had fun with Reggie Miller's corn maze, which allowed you the unique opportunity to lose yourself in Miller's baggy shorts. Now it's time for another retiring star, Jeff Bagwell, to be honored with his own corn maze in Brookshire, Tex. You have to be careful not to touch the sides when you're near his knee, or the whole place will collapse.
Sorry. We love corn mazes.
Jeff Bagwell Corn Maze [Dewberry Farm]
The Great Reggie Miller Corn Maze [Deadspin]