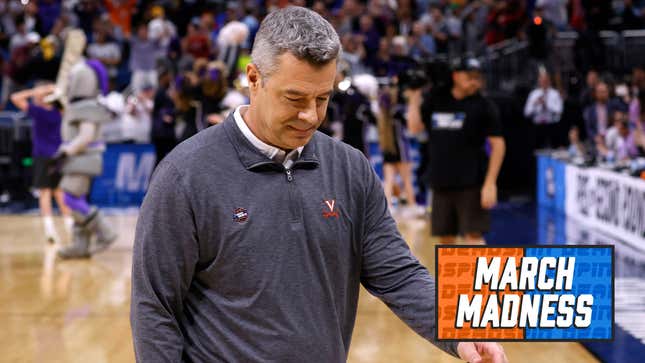 One of the first thrilling finishes of the 2023 NCAA Tournament also gave us our first March Badness play to consume in the form of Virginia's stunning 68-67 loss to the Furman Paladins. Clad in Willy Wonka purple, Furman earned their golden ticket to the tournament for the first time in 43 years, after winning the SoCon Championship Game. However, it was Virginia's final minutes that sealed their own ignominious fate. There's the Princeton offense and then there's the South Harmon Institute of Technology (S.H.I.T.) offense, Virginia ran down the stretch.

Early in the second half, it appeared Virginia was about to overwhelm Furman, until the latter switched to a 1-3-1 zone midway through the second half and immediately began chipping away at Virginia's double-digit lead. We've seen this from Tony Bennett System teams before. UVA robots forget how to function when they come across spunky mid-majors.

Where did Virginia go wrong?
After defending the lead over the final five minutes, turnovers and ill-advised heat-check shots from distance pushed Virginia out to a 63-67 lead with 19 seconds remaining. Bennett's Wahoos operate with machine-like efficiency. However, in the last 20 seconds, Virginia's offense resembled a broken vending machine.

A missed free throw by point guard Kihei Clark and two free throws by Furman's Garrett Hien on the other end pulled the Paladins within two points. On the ensuing inbound, Reece Beekman inexplicably looked back after meeting the trap and laced a bounce pass to Clark, who was immediately caught in the pincers of Furman's trap deeper under the wrong basket. At that moment instead of a) launching the ball off a defender's leg b) whipping a skip pass to wide-open teammate Isaac McKneely, or c) calling a timeout, Clark misjudged how much time was left and his arm strength by winding up a hook pass that was intercepted by Hien, who kicked it to Pegues for the game-winning 3-pointer.

Furman's second-leading scorer Jalen Slawson was still in shock walking into the locker room, bellowing, "He just freaking threw the ball!" in response to a question.

Who deserves the blame?
The obvious blame has been placed on Clark. The fifth-year guard committed a cardinal point guard sin with fewer than seven seconds remaining, but Bennett bore witness to his fifth-year starter's sacrilege. Any head coach worth his salt would have the situational awareness to realize that a point guard who picks up his dribble while trapped in the corner of an opposing backcourt was in peril.

Instead, Bennett preserved his timeout until after JP Pegues' redemptive triple soaked the net to award the Paladins with a one-point lead. For Virginia, the loss extends its NCAA Tournament winless streak into its fourth year.
The last time the Wahoos won an NCAA Tournament single-elimination matchup, it was their national championship win over Texas Tech. In 2022, their season ended in the NIT Quarterfinal. The 2021 Cavs limped into the first round and were chucked from the tournament by 13-seed Ohio. Virginia's premature exit is nothing new. In 2018, they were the first 1-seed to get chopped down by a 16-seed in NCAA Tournament history. However, Virginia was just flat-out unprepared once that game tipped off.
Bennett is the most hot-and-cold coach in the country. That may have to do with how he programs his offense's movements and leaves them devoid of self-expression when plays break down that leaves them vulnerable, but Furman's trap can't be anything worse than what Clark sees in practice every day. There's rough blame to go around and Bennett will have to stew on this one for another year, but he's becoming a perennial March Badness contender.