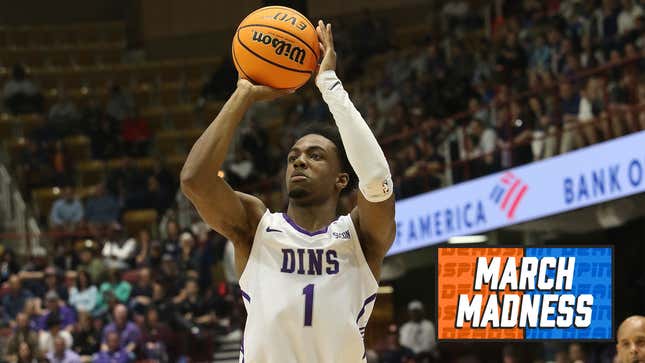 Last year, I believe I was the only person on the internet who sang the praises of Saint Peter's before the NCAA Tournament. And then it shocked the nation by beating then-No. 2 seed Kentucky. And the Peacocks won two more games before they ended their season one step short of the Final Four. I'm back this year to give a similar prediction. I'm not going as outlandish for this season's showcase. No team receiving a No. 14 seed or below really jumps off the March Madness page. You know who does? The Paladins!

Who will take down #1 South Carolina in the NCAA tournament?
Give me Furman to the Sweet 16, besting a Virginia team without the ingredients to make a deep tournament run. And whichever team wins that coin-flip 5-12 game between San Diego State and the College of Charleston will fail to make it to the second week of The Big Dance. That's where I believe the Paladins' luck will run out. Even with all the off-court drama surrounding Alabama, the Crimson Tide has a cakewalk to the Elite Eight and probably the Final Four. It'll be a sneaky test to start week No. 2 of the tournament for Nate Oats' team. Let me tell you why.

The data to back it up
If you follow college basketball and don't live under a rock, you've probably heard of KenPom, although that's not an excuse either because you can still get WiFi under your boulder of choice. It's floated around the internet that every national champion since 2004 has belonged to two categories: Top 40 in KenPom's adjusted offensive efficiency, which is a fancy way to say the number of points a team scores per 100 possessions adjusted to take into account the quality of the opponent. The second group is an ultra-exclusive club of being a top-22 squad in adjusted defensive efficiency. It's the flipped offensive formula, with points allowed that's adjusted by how good an offense every team plays. Furman belongs to one of those two groups. The Paladins are No. 33 in the adjusted offense category. Virginia belongs to neither.
The Cavaliers barely miss the cut in defensive efficiency, at No. 25 in Division I and a whopping 0.3 points behind the cutoff at No. 22 Seton Hall. The weaker category for both teams looks much more staggeringly bad for the Paladins, coming in at No. 183 on the defensive side, almost exactly the median team of college basketball. Virginia's No. 74 offense isn't a bad mark, but it's not great either and with the style Tony Bennett's squad likes to play, it's hardly a needle-mover. In non-nerd analytics talk, if Furman's offense can continue to score as it did for most of this season and trouble Virginia's defenders better than those from mid-tier ACC schools did, the Cavaliers are in huge trouble because their offense isn't good enough to save them, even against an average D-I defense.
Most of this Furman squad returned from last year's team that was a 30-foot buzzer-beater away from qualifying for the NCAA Tournament. The Paladins watched Chattanooga go to The Big Dance in a spot they felt was rightly theirs. And after defeating those same Mocs in this year's SoCon Tournament Final, Furman is in the NCAA Tournament for the first time since 1980. Imagine waiting to get back to March Madness for the first time since Jimmy Carter's last year in office. And directly thinking about the stinging loss for more than a year. The Paladins used that chip on their shoulder the entire season to dominate their league, while Virginia scoring more than 75 points in a game is a minor miracle.

No. 13 seeds all-time are 31-117 in the NCAA Tournament since the tournament field expanded to 64 teams in 1985. The most recent No. 13 seeds to take down No. 4s were North Texas and Ohio who defeated Purdue and Virginia respectively in the Indiana-only tournament of 2021. Wait, Virginia is prone to the 4-13 upset? Yup, and this Furman team is stylistically similar to that Bobcats' squad from two seasons ago. The Paladins have an experienced, veteran core that can shoot lights out from anywhere on the floor. That's why Furman is the fifth-best low-major offensive team in the country. And Virginia won't be able to stop that scoring barrage.

---
We're committed to covering news about the NCAA Tournament, as well as all of college basketball. For more about Virginia and others, check out our NCAA page.