Kei Nishikori had Gael Monfils beat today in Montreal, thrice over. Nishikori was up 5-3 in the second, serving for the match. He was up 5-3 set in the third, serving for the match. He was up 6-2 in the third set tiebreak. And Monfils still won 6-7(4), 7-5, 7-6(6).

Gael Monfils is not normal. Neither are his feet—the way they slide across hardcourt as if it were clay, his soles squeaking like a shot bird; the way they will him to balls no one would get to, even when his knees are apparently dead.
Even after a point of hustling, he can still land a perfect lob, and then convert with a clean return winner.
To stay in this match, Monfils needed a lot of balls to hit a lot of lines, and seemingly got every single one to stick, as he did here, saving the second of four match points:
By the end, he was hitting forehands as hard as you will ever see.
When Monfils is playing with nothing to lose, but also still cares about winning, he's in his sweet spot, and one of the most impenetrable opponents you could ever face: a leggy, scrambling defender who can pummel the ball the moment he gets his feet set. He finally gets a win over Nishikori after three career losses, having found and squandered match points in the last two:
"It's a big revenge, because last year around this time I had the same thing actually against Kei. I was up 6/2 in the tie-break in the Olympics in the quarter-finals and I lost the tie-break. So I know exactly what he feels.

"Actually last year, as well, a bit before, I played him in Miami. I also had five match points and I lost it 7-6 in the third. I'm more than happy because I fought through the toughness, because it was tough for me. It was a bit like a rollercoaster. I was a break down in each set."
G/O Media may get a commission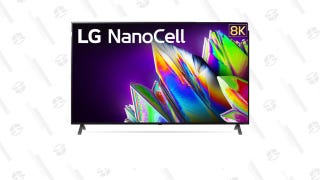 LG 75-Inch 8K TV
As for Nishikori, he continues a slump so long that it's beginning to resemble a straight decline.