Every morning, the fine folks at Sports Radio Interviews sift through the a.m. drive-time chatter to bring you the best interviews with coaches, players, and personalities across the sports landscape. Today: Chizik pleads the fifth on anything we actually want to know.
Jokic? Embiid? The NBA MVP is obvious... right? | Keep it a Buck(et)
Gene Chizik joined ESPN Radio and The Scott Van Pelt Show to discuss the Newton process that has occurred over the past week, what the Tigers expected when they declared their quarterback ineligible, if he always thought Newton would be able to play this week, if he thinks the investigation is completely in the past, how Auburn and South Carolina have gotten better since their regular season meeting and the confidence that came with the comeback at Alabama.
On what the process has been this week with the Cam Newton ordeal:
"Well guys, without going into a lot of detail, as I said last night, at this point in time, our focus is so much on this championship game. We're glad to get the whole issue behind us. The details of the way the NCAA works is really exactly what you read. It's a process, it's just kind of a due process where that's the way it unfolds, that for him to be cleared officially by the NCAA it's just kind of the way it unfolds. Without me being able to go into a lot of details of that and really, again, trying to look forward and move ahead, that's just the way the process works. And the bottom line is we're just happy to have it all behind us."
On what he thought would happen when the university made Newton ineligible:
"Well, again, we've been so focused and driven on what the task is at hand. Really, we've never come off of that. We've never felt like there's a lot of indecision one way or the other. We've always prepared the same way. For our coaching staff and myself, we never prepared or thought any differently no matter how the process unfolded, no matter what all the protocol was. We just carried on as business as usual."
G/O Media may get a commission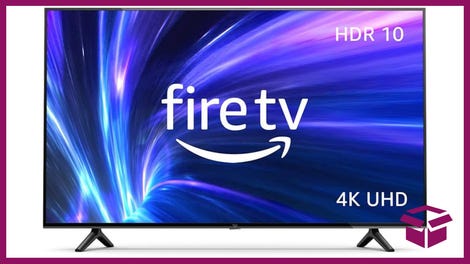 42% Off
Amazon Fire TV 50" 4K Smart TV
On whether he ever thought there was a chance that Newton wouldn't play this weekend:
"Well, again, my opinions and everything, we just felt like the best thing for us to do was to stay on the track that we were on and continue to prepare and do the things that we've done the previous weeks. We didn't really have any preconceived notions about anything. On the other hand, we just thought it was the best and just thought it was right to continue to move on."
On whether he thinks the investigation is completely in the past:
"Well, you know, again, as far as I'm concerned, just like everybody yesterday that read that … we're continuing to march forward just like always. So, in that regard, we're just marching on."
On the differences in Auburn and South Carolina since they met early in the year:
"I hope that we're a better football team all the way around. I know they are. This is going to be a huge challenge for us. They're playing the best football of the year. At this time of the year, that's what you want to be doing and they're certainly doing that. I hope we're a better team, I hope that since then we've learned a lot. We found so many ways to win at so many different place at different times … yet we've always found ways to win. I think, more than anything, we probably understand the chemistry and we understand our team better now than we did eight weeks ago. I hope we're better, Xs and Os-wise, in terms of what we're trying to do on the field, but we have a better working knowledge of our team and who they are and what they can and can't do."
On the comeback at Alabama creating more confidence for his undefeated team:
"That was one of those days that you look back on probably a pretty good amount of time after it happened and say, 'Wow.' We don't have time to do that right now. I think we all understand that it was monumental and it was huge and it was something that was really, really hard to do. … I'm really proud of our team. That's one of the things I was saying earlier. I know who our team is. You can sit on the sideline and you can get down by 10 points and that's one thing, you can get down by a touchdown … when you're down by 24, you're really checking your oil."
This post, written by Eric Schmoldt, appears courtesy of Sports Radio Interviews. For the complete highlights of the interview, as well as audio, click here.
More from Sports Radio Interviews
• Rajon Rondo had his eyes on Brett Favre growing up.
• Miguel Tejada on joining the defending champs.
• Calvin Johnson must be thrilled having Drew Stanton behind center this week.