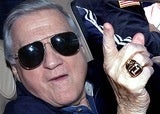 A disgruntled former MSG exec says he designed the blueprint for YES network, which George promptly stole to build his $3 billion television empire. So naturally he's suing for due credit, to the tune of $23 million.
The lawsuit suit, filed by former MSG Network president Bob Gutkowski says he introduced the idea for a Yankee-centric network to Steinbrenner over the course of several meetings back in the 90s, after which Steinbrenner assured him either an upper-level development position or bags of money in the event of a deal. When neither came, he tried to schedule a meeting to gripe.
Gutkowski never got that meeting, although he did receive a textbook shaft, courtesy of the Boss.
In Gutkowski's words:
"[T]heir position was to stall me, string me along and, in the end, block the meeting. Their actions made it clear that the only way for me to be fairly compensated for the idea that I brought to George and the work that I performed was to sue him."
Sorry it had to come to this, Bob.