MMA journalists received a surprise press release yesterday, touting an "industry defining" announcement and conference call to take place Wednesday. Named in the release were current and former UFC fighters Cain Velasquez, Georges St-Pierre, Donald Cerrone, T.J. Dillashaw, and Tim Kennedy, as well as former Bellator CEO Bjorn Rebney. No additional details about the subject of the announcement were given, but considering that a number of the named fighters have clashed with the UFC—and that Cerrone has said he will front a fighters union—most speculate some sort of union effort is in the works.

Jokic? Embiid? The NBA MVP is obvious... right? | Keep it a Buck(et)
There have been rumors and grumblings and hints about an MMA or UFC fighters union for years. UFC fighters get a much smaller share of revenue of the revenue they generate than their counterparts in other sports, and are subject to all sorts of onerous conditions dictated by their contracts with WME-IMG. Here is how an expert in sports contracts described the contract of UFC fighter Eddie Alvarez:
"When you look at who gets the money, at the end of the day, it's disproportionately Zuffa and disproportionately not the fighter," Northwestern University labor law professor Zev Eigen told Bleacher Report, calling the UFC contract the worst he's seen in the sports or entertainment fields. "None of these fighters are represented by a professional association or a union. There's nothing that sets a minimum or basic standard below which the company can't go."
In July, the talent agency WME-IMG bought the UFC for $4 billion, and the UFC is reportedly looking to get paid $450 million annually for its next TV rights contract. There is big money in the sport, and it wouldn't be surprising if fighters thought now was the time to seize more of it. Indeed, back in August, the Professional Fighters Association—led by longtime MLB agent Jeff Borris and labor lawyer Lucas Middlebrook—was announced.
Actually getting a union off the ground, however, is a difficult task. Just today MMAFighting.com reported that Middlebrook and UFC fighter Leslie Smith, who publicly supported the PFA, were ending their association with the organization. They are dismayed that details of confidential meetings with fighters leaked to the media and that Borris created an advisory board of MMA agents, which they see as taking power away from the fighters.
G/O Media may get a commission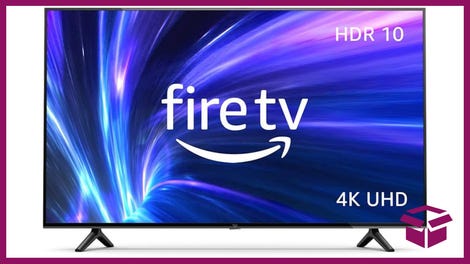 42% Off
Amazon Fire TV 50" 4K Smart TV
If tomorrow's announcement is about some form of fighters union, the biggest difference between it and the PFA will be the public backing of well-known fighters. Velasquez is a two-time heavyweight champion, Cerrone fought for the UFC lightweight title a year ago, and St-Pierre is a former three-time UFC welterweight champion and one of the sport's most popular figures ever. Any union effort with them involved will have immediate credibility. It's also interesting that all of the named fighters, besides Cerrone, are represented by Creative Artists Agency, a super-agency whose biggest competitor is WME-IMG.
But perhaps the most intriguing name on the press release is that of Bjorn Rebney, who founded Bellator in 2008, and led it as it became the second most popular MMA fighting circuit, after the UFC. Viacom bought a majority share of Bellator in 2011, and pushed Rebney out in 2014; since then he has practically dropped off the face of the earth.
Connecting the dots makes his role seem more prominent. The press release was sent out by O'Malley Hansen Communications, which acquired Alplaytac Public Relations, a Los Angeles-based PR firm, in September. The president and CEO of Alplaytac, and now O'Malley partner, was Huma Gruaz, who is married to Rebney.
Rebney's inclusion is not without problems. Malki Kawa, who represents Jon "Bones" Jones and a number of other fighters, tweeted that he wants nothing to do with Rebney:

Maybe this announcement has nothing to do with a fighters union. Rebney's inclusion raises the possibility of the creation of a new fighting circuit, though that seems quite unlikely; maybe the announcement is just that some brand is now sponsoring the named fighters, in which case this is all just a brilliant bit of public relations. But one way or another a union is coming—and there's little reason to think that WME-IMG is going to happily cooperate in dismantling the exploitation machine for which it just paid billions of dollars.