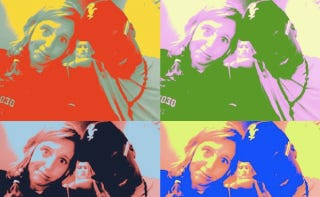 It's not that University of Georgia soccer player Carli Shultis didn't have the money to pay for the hash browns she craved at the Bulldog Cafe last Tuesday morning. It's just that, well, it feels good to get one over on the man by sticking those crispy tater treats down one's pants.
And she would've gotten away with it if it wasn't for some narc of a dining-hall employee.
A Bulldog Café employee saw Shultis stuff the hash browns down her pants as she approached the cashier to pay for other items. Shultis reportedly became alarmed when she realized she had been seen by the employee and attempted to remove the hash browns from her pants and place them back on the food counter.
What, the five-second edibility rule doesn't apply to lady-pantsed breakfast treats?
Anyway, Ms. Schultis was hereby banned from a dozen eateries on campus and her coach will dole out further punishment, presumably.
Busted Coverage has some choice shots of the criminal, who seems like quite the playette.
University soccer player arrested after putting hash browns in her pants [Red and Black] (H/T Holden L.)