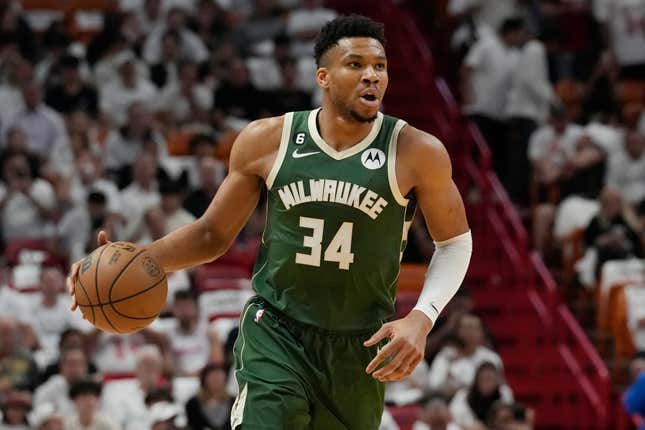 Giannis Antetokoumpo is already the savior of pro basketball in Milwaukee. Bucks ownership was threatening to relocate to Seattle while the city hedged on providing the funding for a stadium upgrade before The Greek Freak singlehandedly yanked them out of basketball purgatory. Nearly a decade later, Milwaukee is firmly entrenched in a brand-spanking new arena and Antetokounmpo sounds like the one who's keen on relocating.
Stop dunking! Giannis' injury could've been prevented | Andy Reacts
During a profile with the New York Times, Antetokounmpo dropped a nugget related to his impending free agency that has the city of Milwaukee worried. If you thought Antetokounmpo was immune to the team-hopping and title-chasing that the average superstar has embraced because he's a product of the European basketball scene and he's eschewed the trend of linking up with superstars from opposing teams, you'd be wrong.

"Next summer it would make more sense for both parties. Even then, I don't know," Antetokounmpo said to the Times. "I would not be the best version of myself if I don't know that everybody's on the same page, everybody's going for a championship, everybody's going to sacrifice time away from their family like I do. And if I don't feel that, I'm not signing."
And just like that, the Bucks forward fired a starting pistol for his services in 2025. Now, this could just be a ploy to wake up the Bucks slumbering front office and keep them on their toes. While the Miami Heat, L.A. Clippers, Boston Celtics, L.A. Lakers, Golden State Warriors, and Phoenix Suns are pumping up their rosters for another title push, Jon Horst's front office has remained inert.

The Bucks' most impactful moves this offseason were to re-sign Brook Lopez, recruit his brother Robin to Milwaukee, and keep Giannis' brother Thanasis Antetokounmpo in the fold with a one-year contract extension. Their second-most prominent acquisition was Malik Beasley.

Meanwhile, Antetokounmpo has been somewhat facetiously plugging Saudi Arabia as a destination for his services. Following Saudi Arabia's $775 million offer to Kylian Mbappe to join the Al-Hilal football club, Antetokounmpo cracked jokes on Twitter about taking his spot and kept the bit going with the Al-Hilal Club's Twitter page for a few days. Antetokounmpo playing in a league besides the NBA is implausible at this juncture in his career, but his reverence for Milwaukee isn't as passionate.

Antetokounmpo is only three years into a five-year $228 million extension, but unlike his most recent dalliance with free agency before agreeing to an extension in December 2020, the circumstances have changed for the two-time MVP. He already finished the job of bringing a title to Cream City courtesy of a 50-point, 14-rebound, 5-block Game 7.

Two years later, the core around Antetokounmpo is aging fast and he knows it. Khris Middleton is embarking on his 11th NBA season and already beginning to show signs of wear and tear. Middleton tweaked his right MCL during Milwaukee's first-round victory over the Chicago Bulls, he started only 20 games during the 2023 season, performed at 50 percent of his max capacity, then went under the knife again following their first-round loss to the eventual Eastern Conference Champions. Brook Lopez challenged for his first Defensive Player of the Year at 35, but it's only a matter of time until his Basketbalzheimers kicks in. Father Time is undefeated.

This is not a team with a long runway. However, Antetokounmpo is only in the middle of his prime. Where are the young bucks in a position to replace Middleton or Holiday like Nikola Jokic has in Denver with Michael Porter Jr. (25), Aaron Gordon (27), and Jamal Murray (26)? He has no equal akin to the Jayson Tatum-Jaylen Brown pairing. Jrue Holiday, 33, has thrived as one of the elite two-way guards in The Association for a decade now. He's also old enough to have been the catalyst for The Process in Philadelphia.

Milwaukee isn't a free-agent hot spot. Damian Lillard and James Harden aren't clamoring to play with Antetokounmpo. The only superstar he's formed a bond with is Steph Curry who has won four titles with a supporting cast of future Hall of Famers in Kevin Durant, Klay Thompson, Draymond Green, and Kevon Looney, who are all younger than him. Antetokounmpo, 28, can do the math. Once Middleton and Holiday age out, he'll be the one left to pick up the pieces. Milwaukee isn't capable of reloading as quickly as big-market franchises, either.

For all of Mike Budenholzer's tactical shortcomings as a coach, he was one of the principal maestros behind their ascendance and the 2021 NBA title. However, before signing a long-term deal, Antetokounmpo has to glance at his surroundings and wonder if he'll wind up in a similar situation as the one Lillard finds himself in with a rebuilding Portland team that can't gain any traction in free agency or through bartering picks for All-Star talent. A supermax deal would give the Bucks control of his rights until 2030 when he'd be turning 35 years old.

While we're a long way from Antetokounmpo seeking a trade, Horst and the front office need to start putting their best foot forward to extend the Bucks' viability as a championship contender before it's too late.

---
Follow DJ Dunson on Twitter: @cerebralsportex