Giant ice cubes are perfect for drinks that you don't want to dilute, and the Tovolo King Cube is one of the most big cube ice tray you can get. The green model is under $6 today, which is the best price we've ever seen. [Tovolo King Cube Square Ice Cube Tray, $7]
Update: The $6 green model sold out, but the blue is down to $7, which is decent.
---
G/O Media may get a commission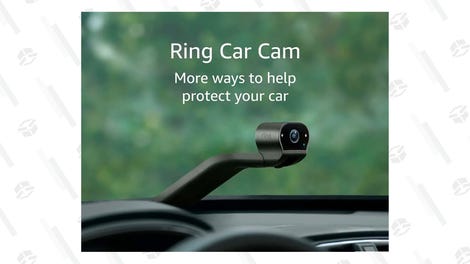 The Panasonic Lumix LX100 is the best camera for parents, possibly the best small camera ever made, and down to just $732 right now (its previous lowest price was $796). The LX100 features great Leica glass, way way more usable controls than you'd expect on a camera this size, and most impressively, a Micro Four-Thirds sensor. [LX100, $732]
---
There were some nice package deals on the incredible GoPro Hero4 Black around Black Friday, but this is the best cash discount we've seen, especially considering that most buyers won't have to pay sales tax. [GoPro Hero4 Black, $430]
---
If you're curious about electric shavers, this Braun Series 3 is only $50 today, and is backed up by a 4.3 star review average on over 1,100 reviews. [Braun Series 3-340s Wet & Dry Electric Shaver, $50]
---
These little stick-anywhere motion-sensing lights are great for cabinets, closets, sheds, and dark hallways at night, and today you can get two for the price of one.
---
You can't control these deadbolts with your phone or anything too futuristic, but being able to unlock your house with a key code can really come in handy when you have friends visiting, or a house sitter watching your pets. This price is only available today, or until sold out. Multiple finishes available. [Schlage BE365 PLY 619 Plymouth Keypad Deadbolt, $71]
---
The DJI Phantom 2 Vision+ drone has descended below $1,000, just in time for tax refund season. This model comes with a built-in camera and 3-axis gimbal for silky smooth video, and Gizmodo gave it a terrific review. We posted this deal last week, but I just ordered one for myself, and I'm giddy about it, so it's getting shared again. [DJI Phantom 2 Vision+ Quadcopter with FPV HD Video Camera and 3-Axis Gimbal, $999]
---
If you still enjoy receiving paper magazines in the mail, Amazon's selling subscriptions to over a dozen from Time Inc. for $5/year today. [ Subscribe to a variety of Time Inc. magazines for $5/each per year]
---
These aren't the best iPad deals we've ever seen, but they're definitely up there. Plus, you get to choose from a huge variety of models, capacities, and colors. [ Staples iPad Sale]
---
This is one of the better price/mAh ratios we've seen on a USB battery pack. [ Aukey 20000mAh External Battery Pack Power Bank, $27 with code S76A86Y6]
---
Over the weekend, Gizmodo EIC Annalee Newitz waxed poetic about her new Android-compatible flash drive, and we've found a terrific deal today on a similar item. It still has a microUSB connector opposite the standard USB, but it's even smaller than the Corsair she wrote about, and cheaper too. So why would you want one of these things?
The awesome part is that it has a micro USB connector on one side, and USB 3.0 on the other. Perfect for moving all the pictures and vids from my phone to another machine. I always carry a spare flash drive with me, and this was a big upgrade — mostly because I'm sick of uploading files from my phone to Dropbox or Drive in order to get them onto my laptop. I want to save things locally, not pass them through somebody else's server farm.
I'd also add that these are great for storing movies and other media for long trips, especially if your phone or tablet is running low on storage. But whatever your motivations, we don't know how long this deal is set to last, so grab one while you can. There are also smaller capacities available at lower prices. [Kingston Data Traveler 64GB, $29]
---
Today on Amazon, you can score a 6-port USB charger for just $20, or bundle it with a variety of other accessories for $26.
iClever 6-Port 50W 10A Fast USB Desktop Charger ($20) | Amazon | Promo code | PORTSIX1.
Or, bundle it with the following for $26. Add both to cart and use the appropriate promo code.
If you just want the charging hub, and don't need a sixth port, here's a cheaper option. [ Aukey 40W / 8A 5 Ports USB Desktop Charging Station, $17 with promo code 8QYH6RNE]
---
If you need a gift idea for your favorite Game of Thrones fan, HBO is taking 20% off any $50 order of Game of Thrones merchandise with promo code WESTEROS. With these prices, you won't need to be a Lannister to pay your debts. [20% off Game of Thrones Merchandise orders over $50 with promo code WESTEROS]
Don't forget, you can still get Season 4 on Blu-ray for $35 today. We expect that price to shoot up in the near future, based on previous years' releases.
---
Don't settle for Apple's overpriced Lightning cables.
Aukey MFi-Certified 3' Lightning Cable ($8) | Amazon | Promo code XP2SESID
---
We're in the process of ramping up our Facebook content, and we'd love if you liked us and told your friends to do the same. We promise to put things that you actually want to see in your news feed.
---
Inventory
---
Home
Kitchen
Fitness
Camping & Outdoors
Tools
Auto
Pets
Kids
Apparel
Bonus
---
Media
---
Movies & TV
Books & Magazines
Apps
Music
Gaming
---
Tech
---
Storage
Power
Headphones
Home Theater
Computers & Accessories
Phones and Tablets
Photography
---
Commerce covers the best products on Kinja Gear, finds you deals on those products on Kinja Deals, and asks you about your favorites on Kinja Co-Op, click here to learn more. We operate independently of Editorial and Advertising, and if you buy something through our posts, we may get a small share of the sale. We want your feedback.