It's clear that Jeremy Shockey appreciates the New York Giants' most enthusiastic, buoyant fan, Sondra Fortunato. Meadowlands security personnel, however, do not, as Sondra was ejected on Sunday while dressed as a Santa.
Ms. Fortunato has been a fixture at Giants games for 30 years, routinely delighting fans and players alike with her enthusiastic antics. These have included, from time to time, large signs and small outfits. But two weeks ago, Fortuna ran afoul of stadium security. All of a sudden her act is forbidden.
"Last Sunday, Sondra, whose niece, Paula, is divorcing Sumner Redstone, arrived at the Meadowlands in a tiara, fishnets, a Santa outfit, a bathing-suit bottom and high-heeled boots. "Nothing was showing," she insisted. "You couldn't even see my underwear. I don't flash!"

She carried a suitcase containing Christmas presents, and held a pair of 11-by-17 signs. One read, "Go Giants." The other, "Have a No Guns Christmas." Then, Sondra was escorted to the security office — "where all the alcoholics and drunks and people ejected from the stadium stay."
There is a no-signs policy at Meadowlands for Giants games, but Sondra says that the team routinely ignores it. Now all of a sudden, she's being singled out.
The Giants maintain that Sondra was ejected because she violated rules against signs and baggage.
G/O Media may get a commission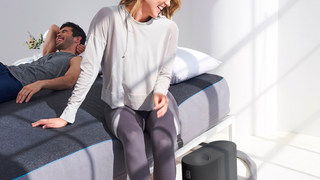 Eight Sleep Pod Cover
Well, signs can be successfully stopped at the gate, I suppose. But there are some things that the Meadowlands are powerless to stop from being smuggled in. Oh, and our Sondra does get around, eh?
Giants Fan Ejected For Having Large Breasts [Don Chavez]
Knocker Blockers [New York Post]