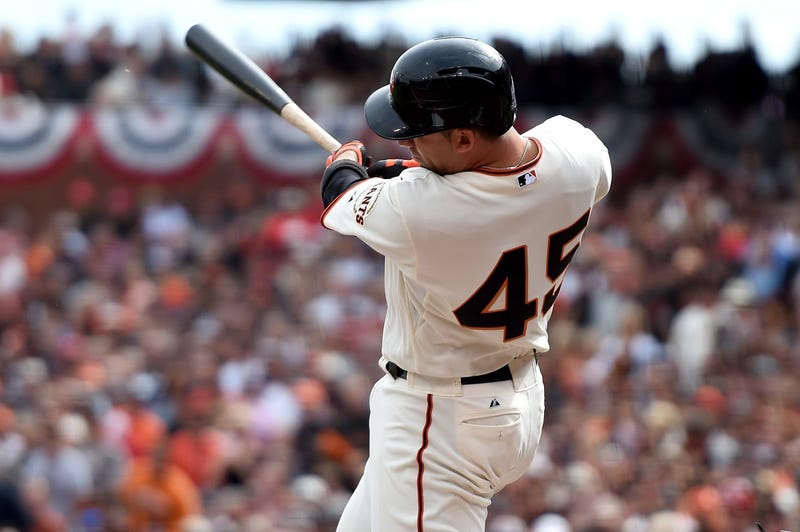 The Giants offense has struggled lately. In winning Game 1 of the NLCS, they scored three runs on a single, error, and sacrifice fly. In losing Game 2, they scored four runs on a ground out, single, single, and walk. Across the two games they left 19 men on base to the Cardinals 11, unable to turn a steady trickle of hits into a stream of runs. But all it took was a bit of home cooking—and home weather—for the Giants to have their breakout inning, which they rode to a 5–4 victory in Game 3.
AT&T Park borrowed the weather patterns Tuesday from the Giants longtime home Candlestick Park, with brutal, swirling wind. When the Giants went to work in the bottom of the first, the flags were blowing in vigorously. After two quick outs, the heart of the order went single, single, double, and intentional walk, scoring a run and loading the bases for Travis Ishikawa. On the first pitch Ishikawa ripped one of the weirdest three-run doubles you will ever see, one that confused players, announcers, and fans.
Cardinals pitcher John Lackey stared daggers at his right fielder Randal Grichuk for not catching a ball that hit the base of the fence, but can you really blame Grichuk? That center-right triangle is difficult enough to play in normal conditions, and damn near impossible when you have no clue what the wind is going to do with the ball. Besides, if it weren't for the wind the ball would've ended up 20 rows deep.
As the Cardinals patiently chipped away at their early lead, it took the Giants nine more innings to score another run. Hell, they only got one more hit before the 10th inning, from their pitcher. It was their first big inning in the NLCS that allowed the Giants to survive until extra-innings. Once there, their fluky offense regained its mojo, and they won the game on a walk-off bunt.
With a series lead, the next two games at home, and their even-year voodoo doing its thing, if the Giants can put together another big inning or two they will soon be playing in the World Series.
Photo via Thearon Henderson/Getty