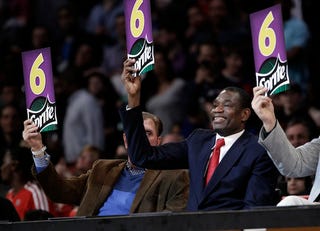 This year's NBA All-Star Weekend is Feb. 13-15 in New York City. Be sure to book a hotel room if you plan on attending. Oh, and if there are, say, six of you, don't ask your friend if you can all crash at his place for the weekend.
Chrissy knew she was about to ask something bullshit because she used "lol" three times. Dropping "lol" or "haha" in a request is the move everyone uses when they know they're about to ask a ridiculous request. Chrissy saw an imaginary shot clock winding down, and she started jacking up J.R. Smith-range threes in the form of online laughter.
@BearDaPrince is right. Let's take this opportunity to say that if you see anything interesting over All-Star Weekend, let us know at tips@deadspin.com.
Photo: AP