There are two times American fans of European soccer are reminded of Giuseppe Rossi, boundlessly talented yet heartbreakingly star-crossed striker and The One That Got Away. One reason is good and the other one is bad, and both prompts were recently triggered in the span of a single, exultant-turned-depressing week.

The first kind of thing that generally gets Rossi's name back up on the radar is when, during one of the all-too-rare spells when fully healthy and getting minutes, he announces his enduring presence and talent by doing something great. Oh hey, Rossi's still playing, and he's still damn good, too!, you think, thrilled that a seemingly good guy and a great player who has endured so much misfortune remains capable of days and weeks and sometimes even seasons that come close to resembling the ones he would've made commonplace had injuries not clipped the wings on his talent.
The yin to that yang, though—and the reason why it's still something of a surprise to remember that such a gifted forward, who at 30 is not all that old, is still out there doing it—comes when you hear about Rossi suffering yet another injury. Goddammit, you think as you read about a new, serious knee injury in a career littered with them. Why is it always him?
It's the timing of the latest instances of Rossi Moments that make this particularly nauseating. A week ago today, Rossi—currently on loan at La Liga club Celta Vigo from Serie A's Fiorentina—was flying high, demonstrating once again why Manchester United at their height thought he could lead their forward line for the next decade when they signed him as a teenager, and why the then-Villarreal starlet was such a consistent force of chaos and beauty that arguably the greatest team of all time wanted to bring him in to improve its starting lineup, and why a kid born in New Jersey chose to represent Italy instead of America internationally and it wasn't even a controversial decision because of how clear it was that he was capable of thriving at the very highest levels of soccer. A week ago today, against Las Palmas, Rossi scored a hat trick and it was wonderful:
G/O Media may get a commission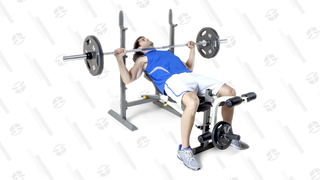 10% Off
Marcy Folding Weight Bench
Yesterday, Rossi tore the ACL in his left knee, and it sucks.
From afar, Rossi's career has consisted mostly of those two moments—a good game or two reminding you he's alive, or a serious injury reminding you of the same—for the better part of a decade now, ever since that breakout season in 2010-11 and the rumored move to Barcelona that fell through and the first of a cascade of knee injuries early on in the 2011-12 season. Rossi's 32 goals and all-around brilliance (and Rossi was always much, much more than just a goal scorer, just as good passing as he was shooting and with the smarts and quickness and movement to be a lethal threat in literally any position along the attack, in any tactical framework) in Villarreal's 2010-11 season led the team to the Champions League, almost got him that move to Barcelona, and set him and the team up for what fans of the Yellow Submarine were only slightly overly optimistic to think might be a title-contending year.
It was October of 2011 when the Rossi was hit with the first major blow of his career, tearing his ACL in his right knee during a match against Real Madrid. It was a catastrophic injury in more ways than one, ending Rossi's entire season and, when coupled with a few more injuries to other important players, led to Villarreal getting relegated. And that was only the start.
Around the time he was expected to come back for the latter stages of the season in which he was originally injured, Rossi re-injured the same knee during his recovery. This setback was expected to keep him out nearly an entire year, and because it happened close to the summer transfer window, it made Rossi practically untransferable, keeping him with the soon-to-be relegated Villarreal in the second division. Rossi went from nearly signing with Pep Guardiola's Barcelona to Spain's second tier, with a right knee that had been shredded twice over, keeping him out of the vast majority of two entire seasons.
And yet because Rossi—then only in his mid-20s—was such a transcendent player on the pitch, someone still took a chance on him. In January of 2013, after going more than a year without playing a single minute in a competitive match and with months of rehab still left before he could do so again, Fiorentina signed Rossi from Villarreal for about €12 million—quite a hefty sum for a player whose career very well could've been over. The striker would go on to miss nearly all of the rest of his new club's season, his sole appearance coming as a substitute on the very last match of the season. Hey, Rossi got healthy again!, you probably thought when hearing news of his return after almost two whole years lost to injury. Wonder what he can do now!
What followed was a season that was just about what he deserved. Rossi was a starter coming into Fiorentina's 2013-14 season, and he seemed to pick up right where he left off the last time we'd seen him. Halfway through that season, Rossi stood atop Serie A's scoring charts with 14 goals in 18 matches, sprinting around and setting up teammates and scoring on his own just the way he had during his pomp with Villarreal. That season too was pocked by injury—a nasty tackle in a January match against Livorno saw him miss about four months due to a sprained ligament in his right knee—but by the end he'd scored 16 goals in 21 league appearances, and proven that he could still be an elite player despite all the times his knee had failed him.
But just as Rossi the great player made its comeback, his rotten luck soon came back, too. During that summer of 2014, he narrowly missed Italy's World Cup roster. Though he'd played so well for Fiorentina as to play himself back into the national team set-up, he still wasn't too far removed from the ligament sprain that marred the back end of his season prior. Most likely due to those injury fears, the manager culled Rossi's name when selecting Italy's final squad.
That snub would prove the better part of Rossi's bad luck. Back with Fiorentina in August ahead of his followup season to his comeback one, Rossi's right knee again buckled. This time it was a torn meniscus, and though it was only expected to keep him out for a few months, Rossi ultimately had to sit out the entire 2014-15 season. It was the third season wholly ruined by the ligaments in his right knee.
The last couple seasons for Rossi have been disappointingly familiar. First at Fiorentina and now at Celta, with a brief half-season stretch of health and minutes with Levante in the middle there, Rossi has been little more than a squad player. Rossi wasn't getting much playing time from Fiorentina's bench when he returned from his season-long injury absence, and so requested and got a loan move to Levante in January of 2016. He actually performed fairly well back in La Liga, getting healthy enough to make 15 starts and scoring six goals for a terrible team that finished dead last in the league. Still signed to but not needed by Fiorentina, Rossi was again shipped out on loan this year, where he's sat, stuck to Celta's bench.
To be clear, Rossi's late-career status as a rotation option for midtable Serie A and La Liga clubs and in the starting lineup of a cellar-dwelling Levante squad is nothing to scoff at. That Rossi is even able to attract the interest of clubs in the best leagues in the world after all those injuries is an impressive feat itself, and one that speaks volumes about the talent that was and remains in those feet of his. The only disappointment is that a talent that was once so immense is now permanently limited, only enough for the odd spot start to spell the primary forwards or a handful of late-game minutes as a substitute.
Though, as his hat trick last week showed (those three goals making up the four league goals he mustered in his 16th appearance for Celta, half of them starts), there has always been reason to believe that even this version of Rossi can be a useful, good player when given the opportunity. But just as soon as he'd once again captured the eye of the enormous, international segment of the soccer community that roots for him with his play on the field, his name was back in the news for sad reasons.
Yesterday, Rossi made his third start in a month's time—minutes he'd earned thanks to his play and because of injuries elsewhere in Celta's forward line—against Eibar. He didn't make it to halftime though, getting subbed off in the first half after hurting his knee. Celta confirmed today that the injury was indeed serious, an ACL tear in his left knee that is expected to keep him out for six or seven months. From joy and goals one day to sadness and injuries just a week later, it always feels like it's one or the other with Rossi.
On Twitter, Rossi thanked fans for the support (and check out his mentions, full of well wishes from clubs he's never even played for, to see just how deep the reservoir of sympathy for Rossi runs) and promised to "#nevergiveup" so that he can "continue doing what I love... playing soccer!" Rossi's contract with Fiorentina runs out this summer. It's hard to imagine that Celta would exercise their option to extend his stay there for another year for a 30-year-old squad player coming off his fourth major knee surgery, and who knows if anyone will sign him up as an injured free transfer come August. It's quite possible that we've seen the last of Rossi at least at the game's highest level.
If that is indeed the case—hopefully it isn't, and history has shown that it's not wise to count Rossi out—there is something sadly poetic about what might prove to be the final week of Rossi's top-level career. The past seven days have encapsulated both the triumph and tragedy of his time in the game: Rossi's effortless skill, his scoring, the legions of soccer fans celebrating news that he's doing well, the cruel and ill-timed injury, the flood of sympathy, Rossi's insistence that he will once again rise and return.
This isn't a true tragedy, of course. Rossi has had a long and remarkable career, playing in hundreds of matches on soccer's biggest stages for some the best teams in the world, often as the singular star around which all the action orbits. He is the best soccer player ever born in this country and is beloved for that fact, even though he never played for the U.S. Even if he never kicks another soccer ball in front of TV cameras, he'll have had a life better than the vast majority of people who've ever lived.
Nevertheless, it's a shame that the injuries limited would otherwise undoubtedly would've been a truly exceptional career, and that the only times Rossi's name came to the fore for some much deserved praise and recognition of late were due to the increasingly rare moments of great play or the unfortunately common news about his faulty knees. But as sports and life so often demonstrate, fairness is a human concept that bears no sway with the cold and unfeeling universe.