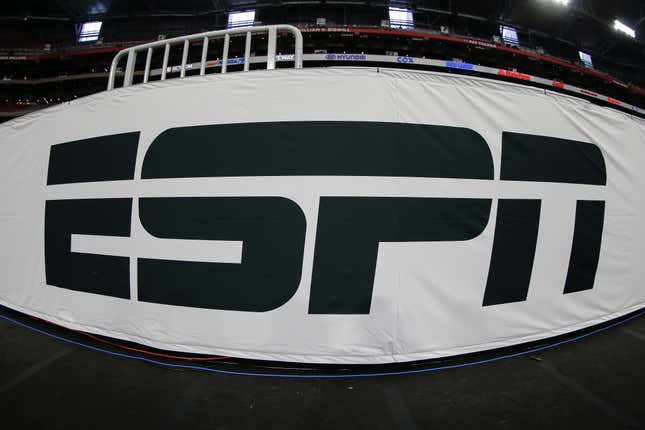 On Tuesday night, Giannis Antetokounmpo scored a career-high 55 points. He was 20-of-33 from the field, 15-16 from the stripe, and threw in 10 rebounds and seven assists for good measure. It was the kind of performance that people want to see, and will search out on social media, SportsCenter, or anywhere highlights can — or at least are supposed to — be found.
Stop dunking! Giannis' injury could've been prevented | Andy Reacts
Enter the ESPN app and website, the most difficult, frustrating piece of shit resource from a company that was literally built on SHOWING FUCKING HIGHLIGHTS. There are 10 videos from the Bucks-Wizards game, and five of them are of Giannis' double-nickel. I guess technically six, but two are of the same play just labeled differently. The other four clips are a Brook Lopez triple, a Bobby Portis jumper, and a dunk, and three from Pat Connaughton.
The pièce de résistance, a two-minute reel dedicated to the Freak's big night, is two dunks that were already broken out into their own videos, a nice no-look dime, and an and-one that was replayed so many times it looked like a review for a charge. Antetokounmpo made 20 shots. There are only 48 minutes of actual live-action per contest. All I ask is that ESPN puts as many of those field goals as possible into the clip. That's it.
Well, that's not exactly all. One of the six Giannis videos is of a missed dunk, which isn't a highlight even if it would've been a poster. This trend of showing near posters started when Ja Morant almost ended Kevin Love's career, and it needs to stop. We don't fawn over near one-handed catches, or an outfielder almost catching a home run.
Again, Antetokounmpo made 20 — two-zero — shots. That's what people want to see. There are social media accounts dedicated to this very thing. That's what ESPN used to be, and they've either vacated or neglected their corner, which is why something like House of Highlights exists. HoH has 38.3 million followers on Instagram. That's 14 million more than ESPN. It's so many, in fact, that Bleacher Report bought the brand in 2016.
That was seven years ago, and yet ESPN's algorithm still dictates their best course of action is to stomp a dead horse into an unrecognizable heap of flesh and hooves for 17 hours per day.
While I understand there are rights and stuff that prevent outlets from sharing clips, the Mothership employs people who went to school and have degrees in video editing. The worldwide leader's Twitter account didn't even share a picture or highlight of Giannis' 55-point night or Donovan Mitchell's 71-point outing.
Perhaps I'm being too harsh. Slapping together footage takes time and manpower. Social media is its own business, and ESPN isn't the only media company with an abysmal online presence. Disney, ESPN's parent company, appears to have outspent its projections, so who knows what's going on. Maybe there's a bunch of overworked mules toiling away in Bristol trying to put together reels from the gazillion games a day while a guy cracks a whip in the background asking why Stephen A. Smith's latest home video hasn't been posted yet.
I mean, shit, you have to watch a 15- to 30-second, unskippable ad just to watch any ESPN video, and when you're on the app, you have to literally restart it to close out of the video player because there is no "X" button. It's just a constant stream of ads, limp highlights, and talking heads seeing who can out-emotion each other.
Basically what I'm saying is highlights are dying, and, incidentally enough, ESPN is the leading cause of death.