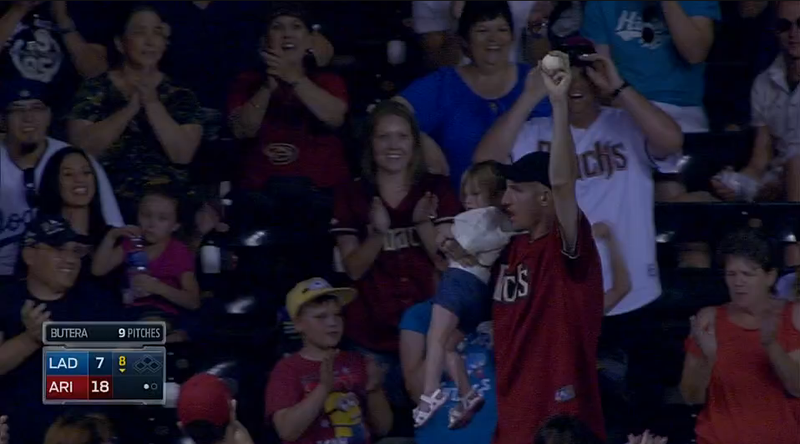 There are a few noteworthy happenings in this clip of one of Paul Goldschmidt's home runs from last night. By itself, the dinger is quite impressive, but excellent camera timing makes the sequence better.
The Diamondbacks' first baseman absolutely bludgeons Drew Butera's pitch into the seats. Butera, the backup catcher for the Dodgers who was pitching in a blowout, threw a batting practice ball, and Goldschmidt connected perfectly.
The man holding a child, who looks like she'd rather be sleeping, catches the homer with one hand, falling on his ass as he does. Maybe the frequency of men with kids catching objects makes it less interesting—it's also sometimes dangerous for the poor tykes—but as we recently learned, it's not as easy as it looks.
Finally, there's Arizona senator John McCain, invigorated by the spectacle, clapping while his wife Cindy documents everything on her phone. Happy white people!
A few Dodgers fans even take photos with the man who caught the home run ball. Everybody's having so much fun. The only one on TV who probably didn't enjoy Goldschmidt's homer? Butera.
Watch everything here: