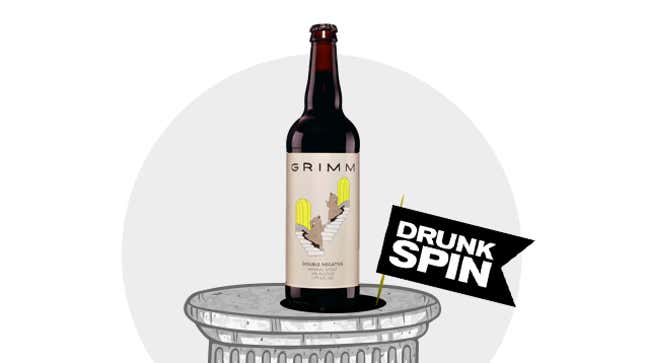 Do you guys use Untappd? It's a combination social-media platform and beer-measuring contest wherein you and your friends brag about all the dope shit you drink. That part's pretty fun, or at least pretty harmless—it would lean more fully toward the fun part if I'd even heard of the super-rare stuff you all seem to drink with your Pop Tarts every morning while I'm just happy to have a steady Sierra Nevada Pale Ale hookup.
The other element, aside from whipping out your exotic beers and wagging them around in public, is even more fun and also decidedly more fraught. In addition to merely "checking in" your beers, you are invited to rate them on a scale of one through five stars. This is not enough stars! Granted, users can dole out half-stars, but if I'm only allotted five stars, I would prefer them cut into at least eight slices.
But that's just my personal accounting anxiety. The larger concern is the way this contributes to the data-ization of beer. I like numbers in general, and when it comes to a field as large as beer—3,000-plus breweries and growing, yada yada, what a time to be drunk and alive, etc.—it certainly helps to have some kind of sorting system in place. I like having access to other people's thoughts on a beer before I try it, both the opinions of individual experts and the general consensus among informed civilian drinkers. But at the same time, I'm wary of letting any old idiots like you and me toss around stars. Seems falsely official, you know?
In addition to Untappd, the major rating sites I encounter are Beer Advocate, RateBeer, and BeerGraphs, the brewski-quantifying spinoff of crazy Eno Sarris's baseball-math site, FanGraphs. They all have their merits.
Beer Advocate serves as an excellent database of all beer matters, plus their message boards sometimes make me feel important by criticizing the shoddy work we do here on Drunkspin. RateBeer very helpfully provides context for a given beer's grade by listing both its raw score and also its score relative to its stylistic cohort—meaning a double IPA that gets a 90 overall is exposed as subpar compared to the rest of its wildly popular class. BeerGraphs takes this approach a couple dozen steps further by sorting beers by BAR, or Beers Above Replacement, the beer equivalent of venerable ball-nerd stat WAR (Wins Above Replacement).
The rankings that account for style highlight the beer-rating communities general biases toward super-hoppy pale ales and imperial stouts. According to this analysis of Beer Advocate's top scorers, the most beloved beer in 24 of the 50 states is a stout or porter of some stripe, with the great majority of these being gigantic, boozy, often barrel-aged stouts. The second-most-popular style, IPA (including double, triple, sextuple) prevailed in 13 states.
This means there are a ton of great stouts out there, which is great news, at least for the next few days. Because you need to go on a beer diet in January, man. We all do. Time to ease back off the 30-calorie-per-sip stouts for a little while, see if we can't help our bodies transition from their current status as "one big lump" back into the more hopeful "intermittently misshapen" setting.
But there's still time to sneak in another couple of high-test stouts, and I heartily recommend you make Grimm Artisanal Ales Double Negative one of them. This 10-percent-ABV delight came to my attention in early October when it won silver in the Great American Beer Festival's hotly contested Imperial Stout category. I could never begin to definitively judge the very best imperial stouts against each other, but those who can decided that this one from Brooklyn's husband-and-wife team of Joe and Lauren Grimm was the second-best in the nation (Armadillo Ale Works's Quakertown won the gold).
Double Negative's aroma is refined and balanced for the style, without the overwhelming roastiness that dominates many big stouts. Don't get me wrong: That roastiness is great, but it does make a lot of beers of this ilk taste the same. In addition to a moderate dose of roasted caramel malt, the aroma feature raisins and fresh grapes, coffee, and the faintest hint of vanilla along with gentle pine.
Double Negative is exceptionally creamy and smooth for a heavyweight, with almost no hint of booze; this clean profile allows all of the individual flavor components to assert themselves, including the piney hops that emerge on the long finish. Grimm's distribution is still very limited, but if you find a bottle, this is well worth $10.
---
This is Drunkspin Daily, the Concourse's adequate source for booze news, reviews, and bullshit. We'll be highlighting a beer a day in this space; please leave suggestions below.
Will Gordon loves life and tolerates dissent. He lives in Cambridge, Mass., and some of his closest friends have met Certified Cicerones. Find him on Twitter @WillGordonAgain. Image by Jim Cooke.
The Concourse is Deadspin's home for culture/food/whatever coverage. Follow us on Twitter.